How To Ship Pizza

14 Jul 2011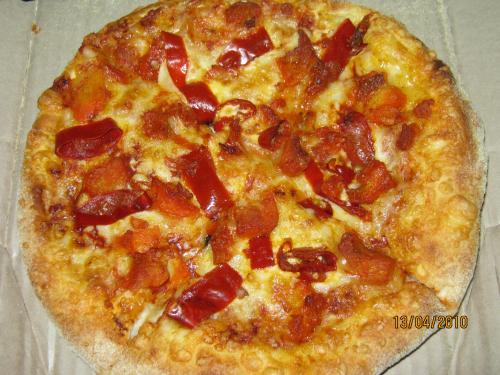 Do you want to ship pizza to your friend, but do not know the right way? Stop worrying. Ifood brings to you the complete information about how to ship pizza the right way. Read on to know more…
What Is Required To Ship Pizza
Pizza
Shrink wrap, to freeze and pack pizza
Domed lid, preferable plastic
Packaging material, including shredded paper or foam peanuts
Insulated shipping container, sufficient to hold the pizza
Packaging tape
Address label
The Step By Step Guide To Ship Pizza
Freeze the pizza
Always bake the pizza as fresh as possible. You should prepare it at least 12 to 14 hours ahead of shipping so that there is sufficient time to freeze the pizza before shipping. With a shrink-wrap, cover the baked pizza firmly and place in the freezer. Since refrigerator freezer does not offer extended cooling, it is advisable to place the wrapped pizza within dry ice for proper freezing. Dry ice can also be used while you ship them. Allow the pizza to freeze overnight for ideal results.
Pack the frozen pizza
Once the pizza is frozen to desired levels, you can take it out of the freezer. Them with another shrink-wrap, wrap it for a second layer. It is advisable to have 3 to 4 layers of wraps to avoid pizza from being contaminated due to dry ice.
Prepare the shipping container
Meanwhile prepare the shipping container. Line the container bottom with a packaging wrap. Place the wrapped pizza on it. Now, you can place dry ice packs above the wrapped pizza. Never touch dry ice with your bare hands. It will burn your skin. Wear gloves and then place the dry ice. Stuff the extra space, if any, with shredded paper or shipping peanuts. It is very essential that everything is held tight within the container and the pizza does not move around during transit. You can include a parchment for reheating or baking [if you are sending unbaked pizza].
Secure the shipping container
Use a tight light close the container and seal it. You can use packaging tape to secure the lid tight. Make sure that the lid is firmly sealed, or else it may open up during transit, spoiling your delectable gift.
Ship PIzza Via Express Shipping
If you are planning to handwrite the address, use a marker and write in capital letters. The writing should be legible. Mention that the shipping material is perishable and should be refrigerated, if possible. It is advisable to choose express shipping for faster delivery to the recipient.
Things To Watch Out For
1. It is advisable to avoid sending pizza during warm weather. Warm weather will trigger faster deterioration, spoiling the flavor and texture of the shipped pizzas.
2. If you are shipping more than one pizza, stack them, one above the other.
Follow these guidelines on how to ship pizza and remain ensured that it arrives in perfect and delectable condition.
Image Credit: ifood.tv
How To Ship Pizza