Carry Soup : How to Tips & Ideas

8 Jul 2011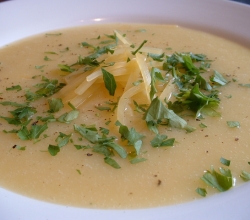 Going for the picnic and planning to carry soup for the lunch? 
The key to packing soup for lunch is keeping it at a safe temperature for eating later in the day. Soup should always remain at 150 degrees F or higher to prevent growth of harmful bacteria.

 
Tools needed for carrying soup:

 
There are certain essential things which you will require to carry soup. These things are as follows:

 
Insulated lunch box

 
Boiling water

 
Wide mouth thermos

 
Tips to carry soup:

 
Here are few tips on how to carry soup:

 
Boil the soup on your gas stove for at least 15- 20 minutes.

 
Take a wide mouth thermos and pour boiling water into it to preheat the thermos interior.

 
Pour out the hot water from the thermos and fill it with soup.

 
Screw the lid of the thermos tight after pouring the soup. This will ensure that you do not lose any of the heat from the soup. You may tilt the container a bit to check for any leaking. 

 
Pack the thermos in an insulated lunch bag. And open the lid only when you are about to eat or serve the soup.

 
551043-method-to-carry-soup.carrying-soup
Warnings:

 
The preheated thermos method can be applied for packing many kinds of other liquid foods as well. The foods such as stew and curry can be packed using the method mentioned.

 
Make sure that the lid of the thermos is tight enough so that your soup won't spill in the bag.

 
 Follow these simple tips to carry soup for yourself and friends.

 
Have fun!!
Image credits: ifood.tv, nourishingmeals.com
Carry Soup : How To Tips & Ideas