How To Bake Pecan Pie

6 Jul 2011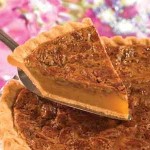 A specialty of southern US cuisine, pecan pie is a very popular holiday dessert across the continent. Tradition holds, that the delicious recipe was invented by the French, soon after they settled in New Orleans. Read on to find out how to bake Pecan pie in the traditional way.
Ingredients Required:
To make it easier you can use a readymade, unbaked 9-inch piecrust which is good enough to prepare a pie for 4-6 people.
Pecan pieces – These will be the main ingredient for the pie about 1 ¾ cups is good enough for a 9-inch pie.
Eggs –  These are added to provide the required moisture to the pie. You will need about 4 of them, beaten  well.
Sugar – For the required sweetness and moisture in the pie add approx ½ cup of sugar for a 9-inch pie
Light brown sugar – Add this sugar as it attracts more moisture in the dish as compared to the white sugar and also increases the shelf life of the dish. About ½ cup would do the trick.
Light corn syrup – You will need about ¼ cup for a 9-inch pie
Vanilla extract – For that added flavor and aroma, add ½ teaspoon to the batter.
Salt – Just a pinch is good enough to balance out the sweetness.
Butter – For that tenderness in the pie, add softened ½ stick of butter.
Flour – 1 tablespoon for preparing the mixture to line the piecrust.
Vanilla ice cream – 2 scoops, for garnish
The Procedure
1 Preheat the oven about 15 minutes ahead to the mentioned temperature or 375 degrees Fahrenheit.
2 In a bowl, add the flour, eggs, sugar, brown sugar, vanilla, salt, and butter.This mixture will be used to line the pie crust.
3 Whisk well and make sure there are no lumps in the mixture, it should absolutely be smooth.
4 Pour the mixture into the prepared pie crust and evenly spread it using a spatula on the base of the pie crust.
5 Neatly arrange the pecans on top.
6 Place in the oven and bake for about 55 minutes or until the filling is set, the pie might appear a bit runny but do not overbake, as it will set when cooled slightly.
7 Remove from the oven and keep aside to cool for about 15 minutes.
8 Serve garnished with vanilla ice cream or whipped cream or powdered sugar whatever you prefer.
No matter who introduced the delicious pecan pie to the world, you can definitely introduce it to your family members this weekend with these easy steps of how to bake Pecan pie. Go ahead and relish the taste.
Image Courtesy: goodinfohubs.com
How To Bake Pecan Pie