How To Bake Apple Crumble

6 Jul 2011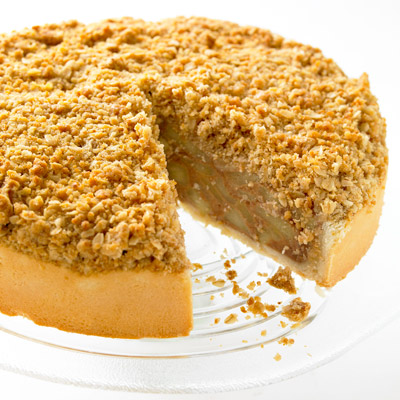 Apple Crumble, also called Apple Crisp was introduced to the world in the year 1924. Since then the delicacy has been an American and British tradition especially during autumn season when apples are available in abundance. If you haven't tried this pie yet in your kitchen read on these simple steps of how to bake apple crumble and give it a shot today.
Ingredients Required
Cooking apples – This is the main ingredient of the recipe and you will need about 6 of them to prepare a pie for 4 people.
White Sugar – This is added to sweeten and moisten the pie and you will need about 250 gms for 200 gms of flour.
Plain white flour – 200 gms is required to make a pie for 4.
Butter – This is added to give the required softness to the batter about 150 gms for 200 gms of flour.
Clove or Cinnamon stick – 1
Vanilla ice cream or fresh cream – to serve
The Method
1 Apples are the main ingredient for the apple crumble, choose 6 baking apples and wash, peel and core them.
2 Since the apples are to be used in the filling, you can choose to roughly cut the apples into small dices instead of slicing them.
3 To cook the apples, in a pan, add the apples along with the clove or cinnamon stick for the added flavor and fragrance and 3/4th of the sugar for enhancing the sweetness and moisture in the filling. Cover.
4 Let the apples stew for about half an hour. Stir occasionally, this is important to make sure the apples do not burn.
5 Check the doneness of the fruit by gently pressing it with a wooden spoon. The apples should be tender but not pureed.
6 Transfer the cooked apples to a serving dish and set aside to cool. Let the filling slightly cool before preparing the pie.
For the topping
7 In a bowl, add the flour, remaining sugar, and butter. Work the mixture using your fingertips until it starts resembling breadcrumbs. This is done to attain the correct texture for the topping.
8 Preheat the oven to the given temperature in the recipe or 300 degrees Fahrenheit (150 degrees Celsius / Gas mark 2) atleast 15 minutes before baking the pie.
9 In a pie dish, put the cooked apple mixture and layer the prepared flour mixture evenly on top without pressing it down.
10 Place in the oven and bake for about 30 minutes or until the top is golden brown and crunchy.
11 You can choose to serve the Apple Crumble with fresh cream or ice cream.
It is popularly said, an apple a day keeps the doctor away. I'm not sure weather apples in the form of a pie will provide any health benefits but they sure are a treatment you'll want to give your taste buds. Try these simple steps of How to bake apple crumble and fetch those compliments.
Image Courtesy: saidaonline.com
How To Bake Apple Crumble