How To Bake Red Velvet Cake

1 Jul 2011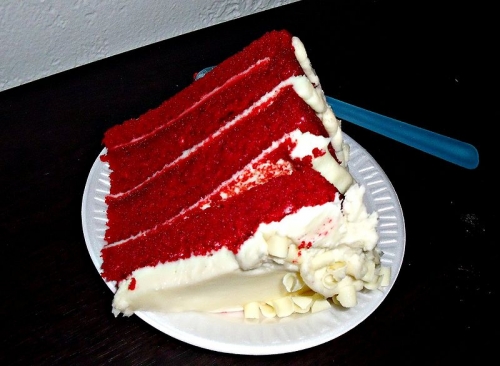 It is believed that the Red velvet cake was baked for the first time at the Waldorf-Astoria Hotel, Manhattan. Baking red velvet cake is a very interesting art. Read the ifood guide on how to bake red velvet cake to know more…
The Complete Guide On How To Bake Red Velvet Cake
A red velvet cake is a bright red, dark red, or reddish brown layer cake with a chocolate or vanilla flavor and creamy white icing. The basic ingredients are flour, cocoa powder, sugar, butter, buttermilk, and red food coloring.
Ingredients – For The Cake
Flour: You can use self-rising flour or cake flour for baking the cake layer. If you are planning to use cake flour, for 2 ¼ cups cake flour, add 1 tsp baking soda to covert to self-rising flour.
Cocoa powder: This flavors the cake layers. Add 2 tbsp heaped unsweetened cocoa powder for 2 ¼ cups flour.
Butter: Butter adds to the richness of the cake. Butter also tenderizes the cake batter. Use 1 stick softened butter for 2 ¼ cups flour.
Sugar: Add sweetness to the cake layer with sugar. You can use 1 ½ cups sugar for every 2 ¼ cups flour.
Eggs: Eggs add richness to the cake, while acting as a preservative. They also give the batter a tender structure. Add 2 eggs for 2 ¼ cups flour.
Buttermilk: The buttermilk added to the batter yields a cake that is tender and moist. Add 1 cup of buttermilk for 2 ¼ cups flour.
Instructions On How To Bake Red Velvet Cake
Always preheat the oven to the temperature suggested in the recipe.
It is advisable to use 9-inch round cake pans for baking red velvet cake. Shiny pans are more effective as they reflect and distribute heat. You can use 2 or 3 as per the number of layers you are planning to have. Grease the pan bottom and sides with solid shortening for even coating, and then dust with flour. Alternatively, line pans with baking parchment.
Bring eggs and butter to temperature. If you prefer a lighter texture, then beat egg yolks and egg whites separately. Cream butter, buttermilk, and egg yolks together. Whisk egg whites. Add egg whites to egg yolks and then beat thoroughly.
With a standing mixer, add sifted dry ingredients to wet ingredients and mix to form a smooth batter. Do not over-mix the mixture or the cake will not rise and the result will be thick and dense.
While transferring to prepared pans, keep scrapping bowl bottom and sides to avoid missing the ingredients sunk to the bottom.
Always fill 2/3rd of the cake pans. Filling completely will yield a flat-topped cake.
Place the pan in middle rack of the oven for even baking. Keep the oven closed for the first 10 to 15 min, or else your cake will collapse.
Check for the doneness with a toothpick or skewer. Insert the cake teaser into the cake center. When removed, it should be clean.
Wait for 5 to 10 min before removing the cake from oven. Run a knife around the cake sides to loosen it from the pan. Invert onto a cake plate, discard baking parchment, if any, and then transfer to a wire rack for cooling.
Wait for the cake to cool completely before frosting.
Now that you have learnt how to bake red velvet cake, throw a party and surprise your guests!
Image Credit: ifood.tv
How To Bake Red Velvet Cake