How To Bake Fruitcake

30 Jun 2011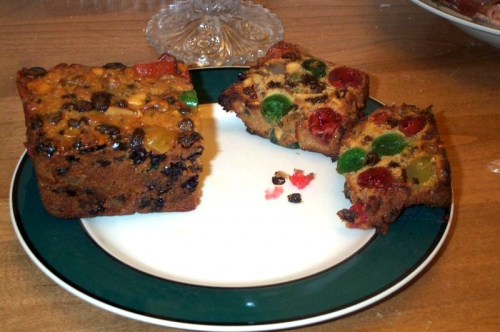 Fruitcake is a traditional, mouthwatering holiday dessert which is adored by everyone. Baking fruitcake is not a mountainous task. Follow this ifood guide on how to bake fruitcake to enjoy the cherishing experience.
The Complete Guide On How To Bake Fruitcake
Ingredients
Flour: Choose self-rising flour for baking fruitcake. Nevertheless, if you want to use all-purpose flour, for every 3 cups of flour, use 1 tbsp baking soda.
Brown sugar: The flavoring, moistening, and coloring agent of Christmas cakes, it brings in a delightful flavor. Use 2 packed cups brown sugar for every 2 cups of all-purpose flour used.
Butter: Butter adds richness and softness to the cake. Use 1 ½ cups melted butter for 2 cups of flour.
Spices: You can use a wide variety of spices including allspice, nutmeg, cinnamon, cloves, and lemon zest to enrich the cake flavor. Use 2 tbsp each of these spices and flavorings for 2 cups of flour.
Fruits and nuts: Fruits and nuts form the life of fruitcake. Use an assortment of chopped nuts and raisins in 2: 1 proportion with flour. Add glazed cherries in the proportion of 1/8th of flour used. That is, for every 1 oz of flour, use 1/8 oz of cherries. You can also choose to use
Brandy/Rum/Sherry/Fruit juice: The alcohol gives a delightful flavor to these celebration cakes. While traditionally brandy is preferred, you can also use sherry or rum, or fruit juice. You just need 1 ¾ cups of brandy for soaking the dry fruits.
Eggs: The dough binders, eggs tenderize the batter and keep it moistened and soft. Use 4 eggs for 2 cups of flour.
Instructions On How To Bake Fruitcake
Soak fruit and nuts for at least 12 to 14 hours or preferably overnight in alcohol or fruit juice. Allow it to soften. Drain and keep aside the liquid to be used in the recipe. The cake will taste better if the fruits and nuts are soaked for 2 to 3 days.
Preheat oven to 325°F or to the temperature specified by the recipe. The temperature should not be above or below this temperature.
Use a tube pan for baking a fruitcake. You can use a brown colored baking parchment for lining the tube pan. This will not allow prevent the batter from sticking to cake bottom, but also allow the easy removal of the baked cake.
Bring the butter and eggs to room temperature before creaming.  
Always sift flour, sugar, and spices before mixing.
Add butter to dry mixture and cream well. Then add eggs, one at a time, beating thoroughly after each addition. Avoid the formation of lumps.
Fold in the dry fruits only after creaming butter well.
Place a pan or metal bowl with hot water on the oven floor, will prevent the cake from drying out.
Do not open the oven door before cake is completely baked. A fruitcake is perfectly baked when a fine knife inserted into the centre comes out clean
Allow the fruitcake to cool on a rack in the baked pan.
Since the cake requires time for mellowing, wrap the cooled cake in greaseproof paper and foil, which has been sprinkled with the soaking liquid, and store in a cool dry place. Keep feeding the fruitcake with soaking mixture for few weeks.
Now that you have sound knowledge on how to bake fruitcake, throw a tea party and treat your guests with this delightful dish.
Image Credit: ifood.tv
How To Bake Fruitcake