How To Bake Carrot Cake

30 Jun 2011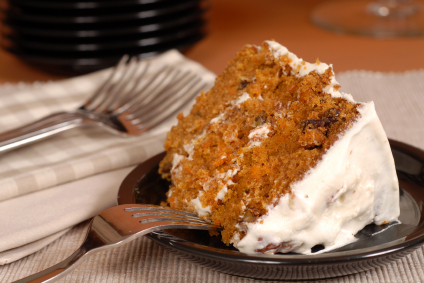 Carrot cakes are nutritious, yet tasty desserts. Baking carrot cake is not as tough as it seems to be. Follow this ifood guide on how to bake carrot cake for making a very tasty and supreme carrot cake. Read to know more…
The Complete Guide On How To Bake Carrot Cake
Ingredients
Fat: You can choose margarine, butter, or oil. However, light oil such as canola oil, is more commonly used in baking carrot cake.
Flour: You can choose whole meal flour, self-rising, or even all-purpose flour can be used for baking the cake. If you are using all-purpose flour, then for every 1 ½ cups of flour, add 1 ¼ tsp of baking powder for the cake to rise well.
Sugar: Choose brown sugar to add color, moistness, and sweetness to the cake. You can use white sugar in case brown sugar is not available. Use 1 ¾ cups of white sugar for every 1 ½ cups of flour.
Carrots: Use fresh carrots and grate them. Never opt for the readymade shredded carrots as they can spoil the flavor. Use double the quantity of flour used.
Eggs: You can use eggs to bind the dough. Add a pinch of salt to extract the flavor. For 1 ½ cups  of flour, add 4 eggs.
You can use ground cinnamon, ground nutmeg, and cloves to add flavor. Raisins and dried apricots add to the richness of carrot cakes.
Instructions On How To Bake Carrot Cake
Preheat oven to 350°F or to the temperature specified by the recipe.
Take the cake pans, grease generously. Greasing is essential to prevent the batter from sticking onto the pan bottom. You can use a spray for an even coating. Choose oil to grease the pan. If you do not have a spray, choose a paper towel.
Sieve together flour with cinnamon, nutmeg, and baking powder. The fresher the ingredients are, the better the taste will be. So, take care while picking the ingredients.
Whisk eggs with sugar and oil in a separate bowl until all the ingredients are well blend. Now, you can add the dry ingredients. Take care to avoid the formation of lumps. You have to add the dry mixture gradually, while beating continuously to avoid lumps.
Now, it is time to add carrots. After carrots blend well, you can fold in dry fruits and nuts. While pecans and walnuts are preferable, you may use almonds, raisins, and currants also.
Transfer the cake batter into pans with a spatula. It is essential to even the batter surface.
Bake the cake without opening the oven door.
Allow to cool slightly in the pan and then transfer to a wire rack for cooling well.
If you are planning to use a cream cheese topping, then the cake should be allowed to turn cool completely.
Make use of these guidelines on how to bake carrot cake the next time you want to prepare one! All the best!
Image Credit: ifood.tv
How To Bake Carrot Cake