How To Carve Apple

28 Jun 2011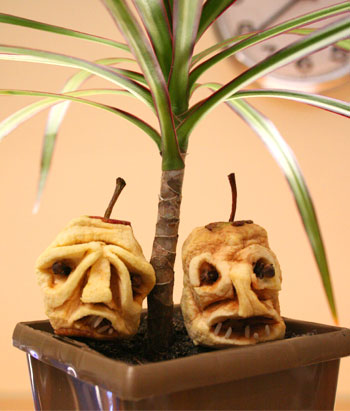 The famous sculptor Michelangelo once rightly said, "Carving is easy you just go down to the skin and stop." Don't be scared, you really do not have to possess the similar carving skills as Michelangelo to learn how to carve apple in your kitchen. Read on and find out yourself that how carving apple can be fun and that too by using simple tools like vegetable peeler and a sharp knife which are readily available in any household.
Getting Ready
1. Peel the apple and neatly core it .This is the first step to getting prepared for carving apple.
2. To prevent the apples from turning dark, prepare a mixture of 1-cup lemon juice and 1-tablespoon salt. Soak the peeled and cored apple in this mixture for about 15 to 30 minutes.
How To Carve Apple - The Real Task
1. Using a water based marker, draw the shape you wish to carve on the apple. You can choose from a doll's face or your favorite bird or a cartoon character, whatever you desire.
2. Now, carve the desired shape following the pattern drawn on the apple using a pointed knife. Ignore little errors in the carving, as they won't appear prominently after the apple dries.
3. Once you are done with carving apple, plunge it in the lemon and salt solution before finishing.
Finishing
1. If you have a food dehydrator with you, great! Place the carved apples in it so they can dry up completely. Or if you do not have one don't be disappointed as you can place the apple on a rack in a warm well ventilated and dry area making sure that apple is well exposed to air from all the sides evenly.
2. Turn the apples around after every few hours until they are dried thoroughly.
Make sure that whenever you choose an apple to carve, it must be fresh and without any dents or bruises.
Drying the apple in humid conditions may take several weeks. It is advisable to dry the apple in a drier climatic condition or you can consider keeping it near a fan for desirable results.
How to carve an apple is no longer a mystery. Bring out the artist in you and experiment with all those lovely patterns you always wanted to have on your dinner table for special occasions.
Image courtesy - kiddley.com 
How To Carve Apple