How To Bake Wedding Cake

28 Jun 2011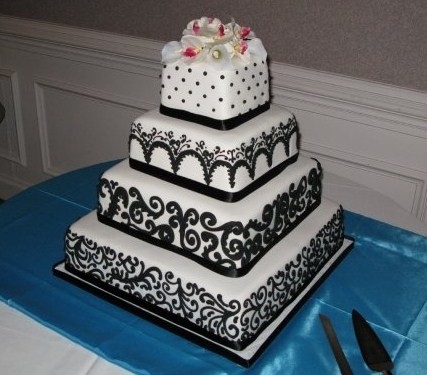 Wedding cakes are symbols of the happy and prosperous life that the newlywed couples have in store for their future. The ifood guide on how to bake wedding cake will help you in baking the traditional, yet attractive and delicious wedding cake. Read yourself to know more about baking wedding cake…
The Complete Guide On How To Bake Wedding Cake
Wedding cakes are baked days ahead of the wedding, while the final touches are given just a day before the D-day. Baking a 4 or 5 layered cake and icing and decorating is time consuming. So, plan accordingly while baking a wedding cake.
Ingredients For Preparing One Layer Of Wedding Cake
Flour: Flour is the basic ingredient of any cake. Choose plain flour or self-rising flour for baking wedding cake layer. If you are using plain flour, then for every 1 cup of flour, add 1 tsp baking powder and 1/3 tsp salt.
Butter: Butter is required to tenderize the batter. You may use shortening, margarine, or oil, if the recipe calls for either of them. However, never substitute shortening with butter or margarine. The flour and butter or margarine should always follow the proportion of 4:1.
Sugar: Use sugar and flour 2:1 ratio to add sweetness and moisture to the batter.  
Eggs: Eggs bind the cake dough. Along with adding a delectable flavor to the cake, eggs also bring in moistness. For each cup of flour, add 1 egg. Use flour and egss in 1:1 ration.
You can either choose to bake the cakes on separate days or together. Adjust the ingredients as per the recipe you are following. You can add rum, cinnamon, and nutmeg, dried fruits like almonds, walnuts, raisins, dried cherries, currants, raisins, and cashew nuts while preparing the cake for added flavor.
Instructions On How To Bake Wedding Cake 
Always use a prepared pan for baking the cake. Grease with butter and then dust with flour. Alternatively, you can line the greased pan with waxed paper. This will avoid cake sticking to the pan bottom.
Preheat oven to the temperature as specified in the recipe.
Always sift in the dry ingredients thoroughly before mixing them.
Bring eggs and butter to room temperature.
Never add sugar all at once to creamed butter. Divide sugar into three parts and gradually add one part each, beating well after each addition.
Add eggs, one at a time, beating thoroughly after each addition.
There are chances of the mixture to curdle at this point. In order to avoid curdling, add 1 tbsp flour. Once the mixture attains desired consistency, you can beat in flour.
If you are using dry fruits and spices, you need to fold them into butter mixture after flour has been added.
Always transfer the batter into the prepared pan with a spatula. Remember, you have to smoothen batter surface for even top.
Place in the center rack of the oven and bake the cake as per specified time. If you are unsure, check for the doneness inserting a toothpick. It should come out clean.
Transfer the cake to the wire rack only after few minutes of baking.
You can store the cake in an airtight container until you need it for frosting and assembling. Read the wedding cake decoration ideas to know more. Now that you know how to bake wedding cake, you can offer to make one for your loved ones special moment.
Image Credit: ifood.tv  
How To Bake Wedding Cake