How To Bake Ice Cream Cake

27 Jun 2011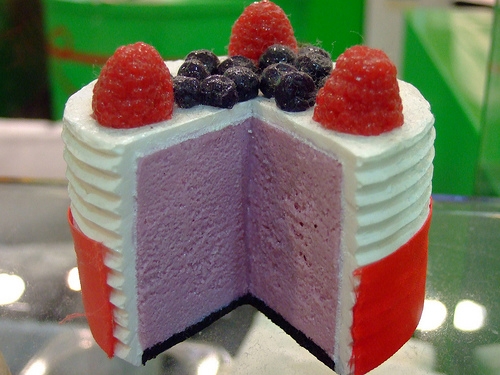 Do you want to impress you near and dear ones with a tastefully home-baked ice cream cake? Then, you are the right place. Ifood offers you a chance to learn how to bake ice cream cake. Read on to know more about baking ice cream cake.
The Complete Guide On How To Bake Ice Cream Cake
An ice cream cake comes with a base cake, which can be an angel food cake or a sponge cake, chocolate cake, or a simple cake prepared from flour, butter, sugar, and eggs. The ice cream use for frosting and layering can be coordinated with the cake flavor.
Ingredients
Flour: You can choose plain flour or self-rising flour for baking ice cream cake base. If you are using plain flour, then for every 1 cup of flour, add 1 tsp baking powder and 1/3 tsp salt.
Butter: Butter brings in the moistness and tenderizes the batter. Use flour and batter in the ratio of 4:1.
Sugar: Add sweetness and moistness to cake batter with sugar. This also lowers the formation of gluten.
Eggs: Eggs are dough binders. For each cup of flour, add 1 egg. Always retain the proportion of flour and eggs to 1:1.
Ice cream: This is the used for frosting and layering.
Heavy whipping cream: This adds to the richness of frosting. Add sugar for sweetness and vanilla for flavoring. For 1 pint whipping cream, you can use 4 tbsp sugar and 1 tbsp vanilla.
Instructions On How To Bake Ice Cream Cake
Preparing Ice Cream
Always use at least two cake pans for preparing ice cream cake, one of freezing the ice cream and another for baking the cake. Both the pans should be of the same size and shape. If you want a three-layered ice cream cake, then use three pans – two for baking two cake layers and one for freezing ice cream.
Thaw the ice cream before using it. Line one of the cake pans with a foil and add thawed ice cream to it. Always wrap the ice cream filled cake pan and then freeze for 4 to 6 hours to set well.
Baking Ice Cream Cake
Always use prepared cake pans. You can either grease or dust them with flour or just line with a baking parchment.
Preheat oven to 350°F or as per the temperature as specified in the recipe being followed.
Always sift the dry ingredients to avoid any lumps.
Bring eggs and butter to room temperature before creaming them. This will help you to beat them easier to fluffy and light.
Keep the pans in the middle rack of the oven for even cooking.
Never open oven door before the cake is baked. It normally takes 30 to 35 minutes for the base cake to be ready. If you are unsure about doneness, use a toothpick to check. Insert the toothpick into cake center. If it comes out clean, the cake is ready.
Allow the cake to rest a little in the oven before transferring to wire rack for cooling.
Cool thoroughly before frosting with whipped cream and layering with ice cream.
Once the cake is ready, freeze it thoroughly for proper setting of frosting or until served.
Now that you have learnt how to bake ice cream cake, try yourself! Every moment spent will be worth.
Image Credit: ifood.tv 
How To Bake Ice Cream Cake