Homemade chocolate Easter eggs

12 Apr 2011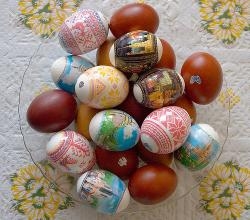 Homemade  Chocolate Easter eggs sounds really interesting. For years Easter eggs have been having same colorations. Its time to make some changes. You can try coating them in chocolate and then painting them with natural colors to make them much more attractive.
The method is very simple, hard boil eggs, melt the chocolate and soak them for a while  and your homemade chocolate Easter eggs are ready. Now decorate these eggs with few tips we have for you. Interestingly, you can eat this Easter food later on without any harm of food coloration damaging the egg.
Some of the ideas to color and decorate eggs can be  
a. Make designs and decoration with wax colors or crayons on the eggs and then dye them.
b. Tie rubber bands on the  eggs to make designs and them dye them. Use as many colors to dye. Remove a rubber band each time.
c. Color the egg in two colors.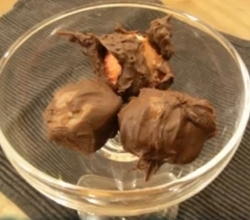 d. Stick stickers on the eggs before dying them. Remove the stickers once the color dries.
e. Decorate the dyed egg with buttons, sequins, bows and ribbons.
You can use various natural colors for this like:
Onion peel, beets, cranberries boiled in water for red color.
Cranberry juice for pink.
Red cabbage or blueberries boiled in water for blue.
Grape juice for lavender.
Turmeric  and vinegar mixture for yellow.
For lighter yellow, use carrots boiled in water.
For the shades of brown, you can use brewed coffee or instant coffee with vinegar and water.
Spinach juice can work for green shades.
If you want golden dye, use peel of Yellow delicious apple.
Paprika boiled in water can work for orange.
Berries can be used for blue, purple and pink colors.
The yellow onion peels can be used for peach.
If you wish to make homemade chocolate Easter eggs at home then it isn't difficult at all. It needs simple ingredients and following simple steps. 
Try simple methods to make homemade chocolate Easter eggs to make  a colourful Easter food basket look pretty. 
Image credits: Ifood.tv
Homemade Chocolate Easter Eggs