How To Peel Pomegranate

7 Apr 2011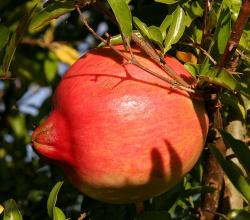 Despite all the goodness of a pomegranate, one thing that irks most about the fruit is peeling it and we feel that if there was some easy way of how to peel pomegranate then it would make life much simpler.
Somehow I've managed to learn how to peel pomegranate the hassle-free way and I'm going to share the tips with you.
How to peel pomegranate
There are two ways of doing it.
How to peel pomegranate using water
For this method you will require a large bowl, cold water, ice cubes and a small knife.
First and foremost score the pomegranate. You don't have to cut it into pieces, just cut off the peel and remove it from the fruit.
Take the cold water in the large bowl and put ice cubs in it to make it colder. This cold water aids in releasing the seeds from the pomegranate.
Now put the pomegranate into the water bowl and start breaking it.
Once you  start breaking the pomegranate you will realize that the seeds start settling at the bottom of the bowl and the waste portion which is the white colored skin, starts floating on the top of the water.
Once you are done with separating all the seeds, remove the waste portion and pour the water through a strainer.
Next rinse the seeds with water to remove any traces of the skin attached to the seeds.
You can also try and use the water left over from the seeds as a sweet stock.
How to peel pomegranate by hands
Keep two separate bowls for this technique.
Take a pomegranate and cut it into two halves using a sharp knife. If you want, you can place a small bowl underneath to collect the juice which falls off while cutting the pomegranate.
Now make use of your fingernails to peel off the skin from the seeds. The pomegranate gets divided into sections, and you will have to separate the sections with hand and then remove the skin from the seeds.
The two bowls will come in handy to keep the seeds and skin separately.
Put the skin into one bowl and the skin of the pomegranate into another bowl.
Now you have the seeds ready for eating.
Clean up the area with a paper towel after you are done with peeling pomegranate.
Tips/Warning
Take care while using the knife as the pomegranate skin is a bit hard and using the knife too close can hurt you.
Also pomegranate juice stains so take care to protect your clothes, or use an apron to avoid getting splashed with the juice.
Pomegranate can be used to make jelly, salad, yogurt dip, drinks, sweet dish and it can also be added to chicken etc. Now that you know how to peel pomegranate you will not hesitate from trying your hand at all this stuff.
Image credit: ifood.tv
How To Peel Pomegranate