How To Create A Home Baking Area For Yourself
15 Mar 2011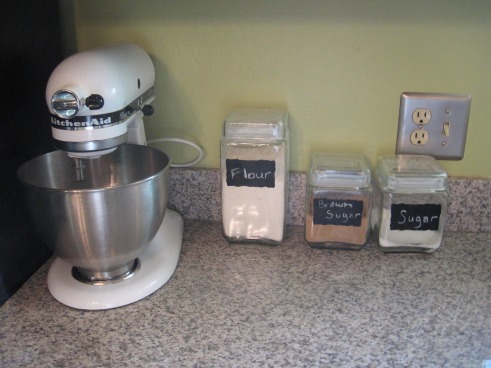 Those of you who love baking would definitely do wonders if you have your own home baking area. Here, you can dish out some of your best baked goods. Generally people tend to use the kitchen counter or the island in the kitchen as their baking center. You could change that and having an entire baking corner all to yourself, undisturbed from the other kitchen turbulence that goes on. So, how does one go about creating a baking area at home? Read on for tips to help you create the same...
Few Tips For Making A Home Baking Area a Reality
Work table: Most important for your baking expeditions is the availability of a functional kitchen space or area for all your baking needs. Assign a quiet corner if you have enough counter space or drag in a work table and put it away from the rest of the kitchen against the wall. Improvise and custom design one with a hutch if you want, by adding shelves to it.
Get the necessary accessories: Get everything for your baking needs like a mixer, blender and egg beater. Getting the right kind of baking mixer is essential.
Baking tools: Baking pans, spoons, measuring cups, measuring spoons, ladles, spatula, rolling pin, egg beater etc. Stock them up and arrange it in your shelf or drawers.
Cookie sheets, baking pans, oven mitts, muffin trays and mixing bowls can be arranged on the shelves or in the drawer for easy reach. Keep the baking bowls and trays separate from the rest of the kitchen items. Use it exclusively for your baking needs.
Stock up your shelves around your baking area with the baking ingredients like baking soda, baking powder, chocolate chips, coconut shreds, sprinkles, icing powder, colors, icing cones, cake decoration tubes and nozzles to name a few. They should be handy and easily reachable.
Arrange some good baking cook books and recipe books on the shelves.  You can decorate your home baking area the way you like it and comfortably. Keeping a stool handy to sit on is a good idea since you might be spending long hours on your feet.
Maybe a TV or a nice radio next to your desk will keep you entertained or you could follow baking shows directly from the TV at your work area.
Create your own home baking area for yourself and enjoy the pleasures of baking. They are satisfying, stress busting engaging hobbies to have. And what better than having a designated baking area all for you.
Happy Baking!
Image Credit:  pugsnotdrugs.wordpress.com/
How To Create A Home Baking Area For Yourself