How To Prepare A Marinade For Filet Mignon
14 Feb 2011
To tenderize the texture of steak, it is a wise idea to prepare a marinade for filet mignon before actually cooking it. With this article, learn How To Prepare A Marinade For Filet Mignon.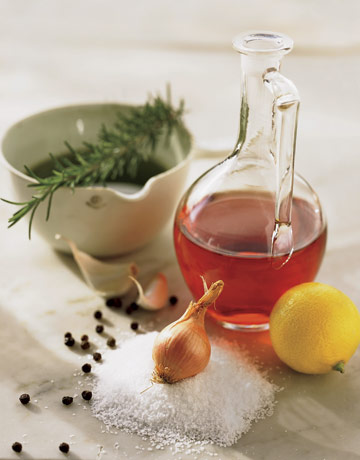 How to prepare a marinade: Preparing a marinade is a process where the meat is soaked in a spice-rich acidic liquid for few minutes immediately before the actual cooking process starts. Soaking meat this way allows the seasonings to pass through into the flesh completely, which gives a unique taste and aroma when cooked. Some culinary aficionados also like preparing a marinade since it dissolves tough meat tissues and tenderizes the flesh for better texture. It also allows better penetration of heat and seasonings.
Preparing a marinade: Method 1: To prepare a marinade, use lime juice, wine vinegar, ground cumin, orange juice, oregano, canned chipotle chiles, salt and pepper, and make a mixture of it and cover the steak with it. Leave the marinated steak for 15 minutes so that the seasonings release their aroma and flavor into the meat. Roast it to get an awesome taste.
Method 2: Wine and vinegar can be used together to prepare a marinade with this method. Take red wine and balsamic vinegar, Worcestershire sauce, garlic, salt and pepper and mix them together. After preparing a marinade, soak the filet mignon in it and put it into the refrigerator immediately. Leaving it outside could ruin the meat's flavor as wine content could turn sour. Mix the meat again to let it soak each side for a maximum of 15 minutes. Tastes best if you serve grilled filet mignon hot along with baked potatoes. For more recipes, click here.
Now you know How To Prepare A Marinade For Filet Mignon, so next time you prepare a filet mignon, do not forget this simple process. Only thing you need to take care of  is never marinate the filet mignon for over 15 minutes as acidic contents might give an unappealingly mushy texture to the steak.
Image Credit: countryliving
How To Prepare A Marinade For Filet Mignon