How To Repair Teflon Coating

7 Feb 2011
Teflon cookware is common in all kitchens and more often than not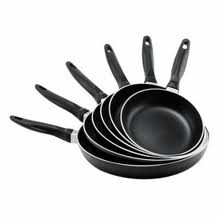 they would have scratches and small damages due to having overheated the pans or having used wrong cooking utensils. Now, the question arises as to how to repair Teflon coating on these pans and use them again. Though buying new ones is an option worth considering if you have the budget, the Teflon pans can be repaired too without much hassle. All that you would require would be some non-stick pan repair spray.
Steps to Repair Teflon Coating
Prior to repairing Teflon coating of your non-stick cookware clean up is mandatory. Wash the pans well with warm water and mild detergent. Scrub gently and get all the food stuck to the pans cleaned. Rinse very well without leaving behind any soap residue. Dry the pans with towel and also allow to air dry for a minimum of 2-3 hours to ensure that there is no moisture on the pans while repairing Teflon coating on them.

Purchase the non-stick cook ware or Teflon repair spray from kitchen supply stores or on-line retailers.

Repair Teflon coating by spraying the contents of the repair spray evenly on the surface of the pans ensuring that the thickness of coating is same everywhere in the pan.

Let the sprayed on pans rest and dry at room temperature for half an hour.

Heat oven to 500 degrees F and place the sprayed on pans in the oven to completely repair Teflon coating on them. The cookware is baked for 45 minutes, after which they are cooled and washed thoroughly.
Home Remedy For Repairing Teflon Coating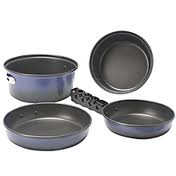 In order to repair Teflon coating at home, mix 2 tablespoons of baking soda with half cup of liquid bleach used at home and 2 cups of water. Pour this solution into non-stick pans to repair Teflon coating and simmer for 5 minutes. This treatment is ideal for renewing the pans and getting rid of stains. The treatment can be repeated in the stain persists. Wash the pans thoroughly after the treatment and dry them. Condition with cooking oil prior to using the pans again.
Word of Caution While Considering Repairing Teflon Coating
Teflon coating is a resin applied on to metal surface. Teflon coating pans should not be heated to high temperatures since the Teflon gives away toxic fumes. Hence trying to repair Teflon coating at home may not be a very healthy option. Similarly, the damaged Teflon surface is not an ideal cooking surface since small black pieces that come off the surface can pose cancer risk. You can send your pans to the manufacturer to repair Teflon coating, but this can be expensive.
Repair of Teflon coating should be done with utmost care if done at home.
Image courtesy: ethicurean.com/;tuberose.com/
How To Repair Teflon Coating