What Can You Serve With Homemade Guacamole

4 Feb 2011
Homemade guacamole has an authentic taste which is very different from the guacamoles you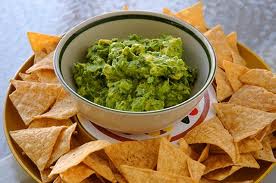 get in the market. This is tastier and you can add your own spices to make it customized. You can make your homemade guacamole spicier, tangier or even blander – as per your choice. Snacks when serving with homemade guacamole gets a different flavour and is enjoyed by everyone.  You can serve homemade guacamole with many things. It need not be specific to any cuisine. Guacamoles bring fresh flavour to any dish and so keep experimenting.
Nachos – Nachos and guacamole is a classic combination. They go very well together. Whether you are serving plain nachos, cheese nachos or any kind of flavoured nachos, guacamole gives it an extraordinary taste.
Crisps – Similarly like nachos, crisps can also be served with guacamole to get an interesting taste.
French fries and potato wedges – Your kids will love it when you are serving homemade guacamole with french fries and potato wedges. It is nutritious and brings flavour to the fries and wedges.
Dip – Homemade guacamoles make great dips. You can serve it with vegetables like cucumber, carrot, radish and tomatoes. Cut these vegetables into long strips and serve them with a bowl of homemade guacamole. This will give an extraordinary taste and your vegetable sticks will disappear as soon as you bring them to the table.
Salad – Guacamole can serve as a very good base for salads. Along with some extra virgin olive oil and vinegar put some homemade guacamole to add that extra zing to the salad.
Sandwiches and wraps – Homemade guacamole makes sandwiches and wraps tastier. Along with other fillings add a layer of guacamole into your sandwich and wrap. It will keep your sandwiches soft and juicy and also will give some additional flavour to it.
Jacket potatoes – If you are having a craving for jacket potatoes but cannot think of any filling to put into it then a blob of freshly made home guacamole is perfect. Put some butter along with it or some cheese or some salad, if they are available and this becomes a wholesome meal.
Burritos – If you plan to eat burritos for lunch or dinner, homemade guacamoles can do wonders when eaten with them. Whether you make the burritos at home or get them from a restaurant, always serve them with the guacamole you have made at home. You will enjoy the taste.
Truly speaking, homemade guacamoles can be served with anything. As the taste is fresh, whatever you make put a spoonful of guacamole on it. It will give a completely new flavour to your dish and you will feel proud for making the guacamole at home.
Image credit: mermaidlouie.blogspot.com, tearsnomore87.blogspot.com 
What Can You Serve With Homemade Guacamole