How To Use Pancake Mix To Make Crepes

4 Feb 2011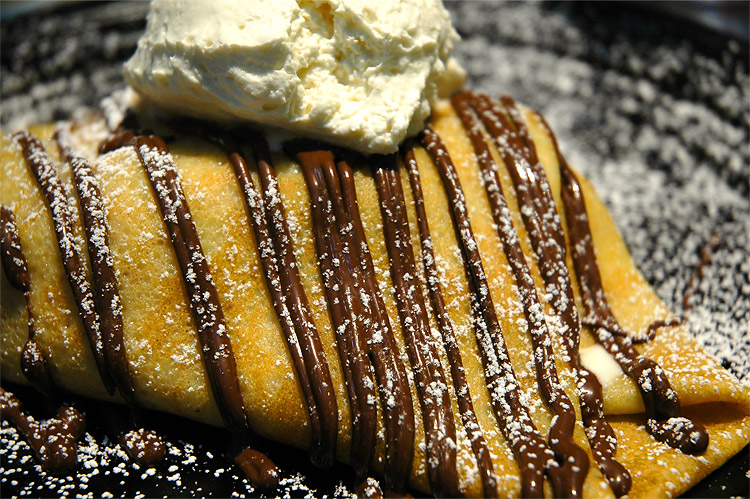 Crepe batter is thin when compared to breakfast pancake so we can say Crepes are thin form of pancake.  Use pancake mix to make crepes that taste different from the traditional crepes. Using pancake mix you can easily prepare crepes and wrap with your favorite filling. Pancakes are fluffier and thicker so when you use pancake mix to make crepes you should do some changes to get the right recipe. Read more to know how to use pancake mix to make crepes.
Method:
Ingredients: Egg, Milk, Pancake mix, Butter, filling or Jam, chocolate sauce or creamy cheese.
In a blender, add pancake mix, milk, egg, 3 tablespoons of melted butter and pulse it for few seconds till it reaches a smooth consistency. Add water to bring it to thin consistency, if it is too thick.
Transfer the crepe batter to a glass measuring cup that has a spout and keep it inside the refrigerator for an hour.
Prepare fillings of your choice, you can use different vegetables or scrambled eggs with cheese. If you like to serve the sweet crepes to your kids, use chocolate sauce, jam, syrup and whipped cream.
Take a pan and pre heat it. Put some butter and spread it evenly throughout to cover the cooking surface. Pour half cup of batter to the pan and spread it to make a thin layer of batter.
Approximately each side of the crepe will take 2 minutes to cook, flip it if one side of crepe is cooked.
Once both sides are cooked, place the filling in the center with grated cheese and wrap the roll the crepe. If you are not using a filling, just fold the crepe and serve it with Jam, syrup and chocolate sauce.
Usually when you use pancake mix the make crepes, the batter may become thicker so bring it to thin consistency while blending.  It's very simple and easy to prepare crepes using pancake mix. Next time try to use pancake mix and serve delicious and different taste crepes to your guests.
Image credits: lumiere.sopheava.com
How To Use Pancake Mix To Make Crepes