How To Prepare A Pressure Cooker To Bake Cake

15 Jan 2011
Have you ever tasted a pressure cooker cake? It tastes as amazing as an oven baked cake; the only difference is that you have to prepare a pressure cooker to bake cake instead of an oven.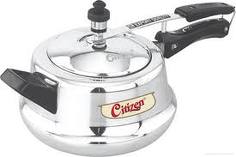 The pressure cooker creates pressure and heat from the steam is built in it. By cooking in pressure cooker one not only gets tasty food to eat but also saves on cooking time.
However, there are two ways to bake a cake in pressure cooker; sand way and the water way.
It is up to you, the method you want your cake to be baked as cake made by both these methods are soft and delicious.
The most important part in baking cake in a pressure cooker is to first prepare a pressure cooker to bake cake. So, here is what you need to do:
Take a pressure cooker, big enough to contain the baking pan.
Wash it firmly with soap solution. The cooker should be free of odor before a cake is baked or else it may spoil the cake's taste.
Wipe it with a clean towel.
Now, remove the whistle of the pressure cooker. We do not make use of the whistle while baking cake. The vent is let open so that the steam can disperse.
If you want to bake cake with sand method, put some sand on the cooker's base not more than an inch. This method is recommended if you do not have a baking stand to keep the baking pan. This helps the baking pan by not letting it touch the surface of pressure cooker.
If you have a baking stand for baking pan, follow the water method for baking. Pour water in the pressure cooker, at least one and half inch up from the bottom. Now keep the baking stand in the cooker.
Place the baking pan filled with the cake batter on the sand or the baking stand, depending on your method.
Put the lid of pressure cooker, without the whistle and let the pressure cooker hear for 45 minutes on low flame.
The cake will be ready; you can check it by putting a toothpick or a knife.
Image credit- www.diytrade.com
How To Prepare A Pressure Cooker To Bake Cake