How To Grind Whole Wheat Into Flour

11 Jan 2011
My grand mom always used to grind whole wheat at home and I just wondered that when flour is readily available in the market, then why waste time and energy grinding whole wheat at home.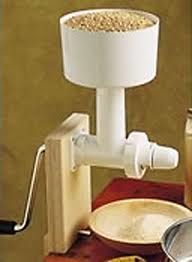 Everybody knows whole wheat is rich in nutrition, but how many of us are aware of the fact that after the whole wheat is ground, the nutrition gets lost. Within 24 hours of grinding, the nutrition diminishes by 45% and within 3 days, it goes down by 90 %. So when we buy packaged flour, we actually provide our bodies with almost no nutrition.
So, why not  grind wheat grains at home whenever we need it to make breads,and give our body essential vitamins and minerals without losing them. Also, the taste of freshly ground flour and the convenience of making breads are the reasons to grind whole wheat at home.
Whole wheat can be grounded in many ways, though grinding with a grinder is always the best option.
To grind whole wheat into flour, you just need whole wheat, grain grinder and a big bowl.
Make sure the grain has no dust particles or any other impurities. If you find them just pick them with your hands and remove them. If you do not take the impurities out, they will also get ground with the grains. This could spoil the taste of the flour as well as will not be healthy.
Set the grain grinder by following the instructions in the manual.
Keep the bowl at the exit point to collect the flour.
Put the grain in the desired place according to the grinder.
Put on the grinder. If it is a manual one, you need to move the grinding wheel in the clock wise direction.
After the grinding is done, the flour will collect in the bowl.
The flour is ready to be used for making breads.
Tips-
The grinding should be done with grains at a room temperature.
The flour should be stored in a cool and dark place.
Image credit-dailyblessingfarm.com
How To Grind Whole Wheat Into Flour