How To Organize A Monsoon Party

29 Dec 2010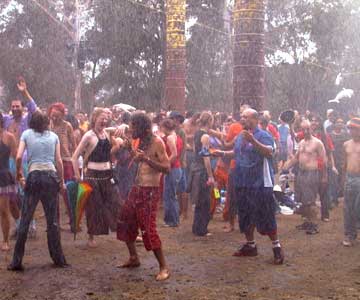 Organizing a monsoon party replete with colorful monsoon gear, wild and whacky themes and glorious comfort food can be fun indeed! However, monsoon party ideas are scarce for the simple reason of being a little out of the ordinary. That is definitely no reason to shelve the idea though, particularly when you are keen to know about how to organize a monsoon party. While the entire effort of hosting a monsoon party might feel like a lot of hard work, it is worth trying since the fun quotient gets doubled even as you churn out monsoon party ideas that are sure to be a hit with your friends and acquaintances.
Trying to combat the unfriendly weather while ensuring a goodtime is not an easy task either! It is therefore imperative to take care of each and every aspect properly while considering the monsoon party ideas. It is also best to visualize your monsoon party in its entirety and then try to complete the work in a step by step manner. But how exactly should you go about organizing the ideal kind of monsoon party? Just take a look at the following steps which should see you through…
Location - A monsoon party is most enjoyable when it is held outdoors amidst the downpour. It is a perfect way of mingling with the nature, welcoming its bounty and the good times that are bound to come after the rains. A party organized on the rooftop or in the garden and portico will definitely serve the purpose while the monsoon party ideas that hint at hitting the road are not to be ignored either. Travelling to a hillside or the nearest sea beach in the rains is yet another way of making your monsoon party a super success.
Gea r- Appropriate clothing that is not too flimsy or gets soaked easily have to be insisted upon while sending out the invitations. Keeping a collection of raincoats and umbrellas in all possible hues is likely to enhance the mood considerably while Overshoes or slip-ons need to be kept handy for the monsoon party as well.
Music - Foot tapping music churned out at full blast and a rain dance organized by you at the monsoon party will certainly go down well helping your guests having the time of their lives.
Food - A monsoon party will also be deemed incomplete without the right kind of food. It is best to go in for a host of snacks or finger foods that can be served with the minimum of fuss as you get ready to frolic under the rain. Some of the best food stuffs that can turn your party into a rip roaring success are:-
Fried fritters
Crackers with cheesy Dips.
Crunchy Salads.
Waffles.
Hard sugary Cookies.
Assortment of Nuts.
Fruit Juices or Hot Toddy
Image Courtesy: 2.abc.net.au
How To Organize A Monsoon Party