How to boil spaghetti?
19 Dec 2010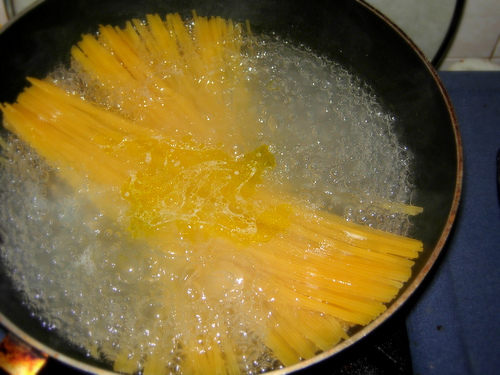 Tired of making perfect spaghetti that neither stuck together nor fell apart? Stop wasting your efforts and simply follow my grandma's quick and simple tips on How To Boil Spaghetti.
Step 1: Take a round-bottomed wok and fill it with water. Pour Spaghetti into it and gently bend it so that they are fully immersed in it.
Step 2: Turn on the stove and keep a lid on the wok to allow water to boil fast. Add one tablespoon of olive oil and a pinch of salt in the pot. You can increase the quantity of salt depending on the quantity of spaghetti you want to make. Wait for the water to boil and let spaghetti boil for five minutes.
Step 3: Simmer the stove and check one strand of noodle whether Spaghetti is cooked well or not. Poke the fork into one of the strands, if the kitchen tool comes out without sticking the ingredients on it, it is done, else cook for 1-2 minutes more. You can also taste it to find out whether spaghetti is cooked or not.
Step 4: As a crucial pointer in boiling spaghetti, stir occasionally to prevent spaghetti from sticking to the bottom of the wok or pan.
Step 5: Once done, switch off the stove and let the ingredients remain in the pot for 5 minutes. Then, wash spaghetti in running or cold water and spread them on an already greased plate to prevent it from sticking further.
Warning: Keep the pot away from your body while draining.
Image Credit: malaysiabest.net
How To Boil Spaghetti?