How To Blanch Tomatoes

19 Dec 2010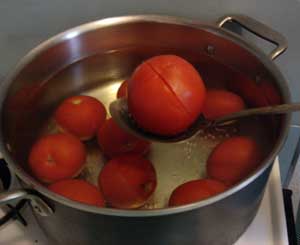 How to blanch tomatoes so that you can store them for those times when these are not available in bounty? There are several ways of storing tomatoes, but the most effective way to store is by blanching tomatoes which helps to preserve the freshness and flavor of tomatoes. 
Here is the process of blanching tomatoes.                                                                                                                                                       
Once you bring home the tomatoes, you need to wash them quickly. In case you find spots in any one tomato, you can remove it with the help of a sharp knife. Remove the stems also from all tomatoes. You don't have to worry about blemishes in tomatoes as these are not dangerous. This is the first step of blanching tomatoes.
Now, you can take a large pot which is enough for 2-3 tomatoes and pour water into it. You do not have to include your entire bunch for blanching, because these need to be in water for just 2 minutes. So, you can complete entire process of blanching tomatoes in a short time. So, you don't have to be in a hurry by pouring all of them together.
You will also need a bowl of ice water, to put all the tomatoes in it after they have been in the boiling water for some time. So, as your water boils, as mentioned in the above step, you can  make the ice water ready. You will need to have new batch of ice-water for each set of blanching tomatoes. In case you do not have ice water, you can put them in running tap water.
Once the water starts boiling you can keep putting 2-3 tomatoes into the water at a time. This is an important step of blanching tomatoes.
Let these tomatoes be in boiling water for a minute or two. You have to keep a watch on the tomatoes when they are poured into the boiling water. You will notice that their skin will start to split within a minute or two.
After 2 minutes, put these hot blanching tomatoes in this ice water. In case you find that the skin of the tomato is splitting before 2 minutes, you will have to remove them in this blanching step.
Let these tomatoes be in cold water for 3 minutes at least. This is an integral process of blanching tomatoes.
After 3 minutes, you will need to shift these tomatoes into a colander so that excess water drains away slowly. You have completed the blanching process of the tomatoes.
You can now, cut the tomato into half and remove its seeds. It can be stored in the refrigerator to be used later.
Now, that you have learnt the process of blanching tomatoes, you can enjoy your home grown tomatoes, all round the year. 
Image credits - blogs.kqed.org, food-skills-for-self-sufficiency.com
How To Blanch Tomatoes