Quick And Easy Tips For Making Cream Cheese
18 Dec 2010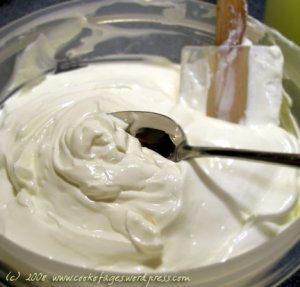 Cream cheese is a soft, spreadable cheese popularly eaten as a dip along with appetizers and desserts. It can also be served along with your most favorite bagel.  You can make start making cream cheese at home by using ingredients that you may already have, such as milk. Read further to master quick and easy tips for making cream cheese.
In a large pot, mix about 2 to 3 cups of whole or goat's milk in addition to 3 cups of heavy cream. Thereafter, you must heat the mixture until it reaches between 72 and 80 degrees F.
Remove the vessel from the stove's heat. Stir in about 1/4 tsp of mesophilic starter culture. This ingredient produces a lactic acid which preserves the cream cheese and also adds to its flavor. Mesophilic is available in foil packaging and can be brought from any specialty cheese shop or online.
Now, add 1/4 tsp of calcium chloride liquid as well as 2 tbsp liquid rennet or rennet tablets to the pot. You can also add some salt to the cream cheese according to your taste. Stir the mixture and then cover the pot. Then the pot must be stored at room temperature in the kitchen.
Ripen the cheese for approximately 24 hours in the same room. At this point of time, the cheese will look like yogurt.
Put some cheesecloth into a colander and then pour the cream cheese over the colander. Now, tie up the cheesecloth properly in order to drain any remaining liquid.
The newly formed cream cheese curds must be drained until they become solid. Put the cream cheese into a separate container and mix it until it becomes smooth and creamy. Refrigerate the cream cheese for about one or two weeks. It is best served with crackers, chips, fruits or vegetables.
image credits : cookofages.wordpress.com
Quick And Easy Tips For Making Cream Cheese