How to Melt Peppermints
14 Dec 2010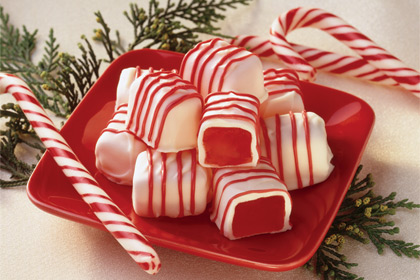 If you want to add melted peppermint to recipes or craft projects, you must know how to melt peppermints. 
Peppermint candies are not only a very common after-dinner treat at most of the restaurants all the year-round, but they are also a classic part of several holiday foods.Melting peppermint candies is not a simple task like merely putting them in the microwave. You will be able to produce consistent, evenly melted peppermint by using the right kind of tools. The most common of all holiday treats include peppermint bark as well as peppermint hot chocolate. Here's a step-by-step process of melting peppermints.
Unwrap the peppermints in case they are individually wrapped. Put them on top of a cutting board.
Crush the peppermints into very tiny pieces by rolling a rolling pin on top of them. In case you think you have trouble with keeping the pieces of peppermint onto the cutting board, place the peppermints inside a resealable plastic bag before you crush them.
Put the crushed candy in a saucepan or a double boiler. If you use a double boiler, simply put the candy into the top most part of the double boiler. On the other hand, if you make use of a saucepan, you should add 1 tbsp. of corn syrup for every 15 to 18 peppermints you crushed.
Heat the peppermint candies on low to medium heat till the time they begin to melt. Prefer low heat if you use a saucepan. You may use medium heat more successfully when using a double boiler, as you are less likely to overheat the candy in such a case. The melting peppermint candy must be stirred regularly, particularly if it is being melted in a saucepan.
As soon as the peppermint candies are melted to your satisfaction, take off the pan or double boiler from the heat.
image credits : images.libertyorchards.com
How To Melt Peppermints