How To Create Different Flavored Popcorn

12 Nov 2010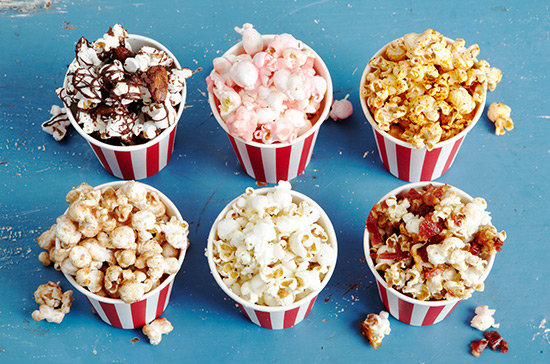 Popcorn is the perfect low-calorie snack that most of us love to eat while watching movies, sports or just lounging around! So, why not add some variety to one of your favorite snacks? Making different flavors of popcorn is not a very difficult task when you have these recipes to learn from:
Need we say more! Let's get down to the recipe and make this all-time favorite.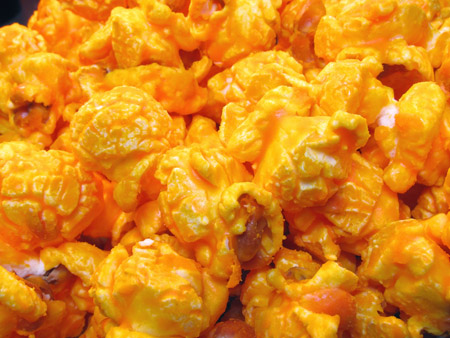 Ingredients
10-16 cups of salted, popped popcorn
2 large tbsp of minced or grinded garlic
2oz. of grated cheese
1-2 tbsp of melted butter
Method
Mix all the ingredients, except for popcorn, in a large bowl. Stir well to blend everything together. Place the popped popcorn in a large bowl and then pour the prepared mixture over it. Toss well and serve.
Kids love the salty-sweet taste of caramel coated popcorn. Though, not a light dessert, you can indulge in it every once in a while.
Ingredients
4 Quarts Popped Popcorn
1 cup of brown sugar 
½ cup of butter or margarine 
½ cup of light or dark corn syrup
½ teaspoon of salt
½ tsp of baking soda
1 tsp of vanilla extract
Method
Spray a large, shallow baking pan with non-stick spray. Preheat oven to 250 degrees and when ready, add the popcorn kernals to the baking dish and place in oven while preparing the caramel coating. Mix brown sugar, butter, corn syrup and salt in a saucepan over medium heat. Sitrring constantly, bring the mixture to a boil. Then, boil 5 minutes without stirring. Remove from heat and stir in the baking soda and vanilla extract. Mix well. Pour mixture over warm popcorn and mix until evently coated. Bake in the oven for 45 minutes, stirring occasionally. When ready, remove from oven and spread the mixture evently over a baking sheet that has been lined with parchment paper or foil that has been sprayed with non-stick spray. Let cool and then break apart, serve and enjoy!
The very name of this popcorn variety makes our mouths water. Check out the recipe and enjoy it at home.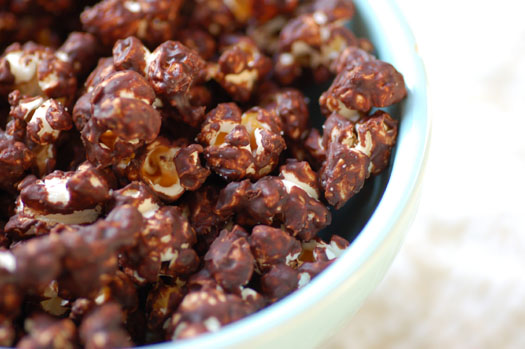 Ingredients
2 Quarts Popped Popcorn
3/4 Cup of Sugar
½ cup of melted butter
1/4 cup of corn syrup
1/4 cup of cocoa powder
1 tsp of vanilla extract
Method
Preheat oven to 250 degrees F (120 degrees C). Oil a 10x15 inch baking pan with sides. Place popcorn into a large, metal bowl, and set aside. Stir together the sugar, corn syrup, cocoa powder, and butter in a saucepan over medium-high heat and bring to a boil. Boil for 2 minutes and then stir in the vanilla. One combined, pour the mixture over the popcorn. Stir until the popcorn is evenly coated. Spread the popcorn into the prepared pan and bake in the preheated oven for 30 minutes, stirring occasionally. Remove from oven and let cool completely before breaking into pieces, serving and enjoying
Other Articles You May Like To Read:
1. How To Store Popcorn In A Refrigerator
2. What Are The Health Benefits Of Popcorn
3. Which Popcorn Is The Healthiest
Image credit: thepopcornzine, homemadesimple, heywhatspoppin, acozykitchen
How To Create Different Flavored Popcorn