How To Plan A Hawaiian Luau
19 Oct 2010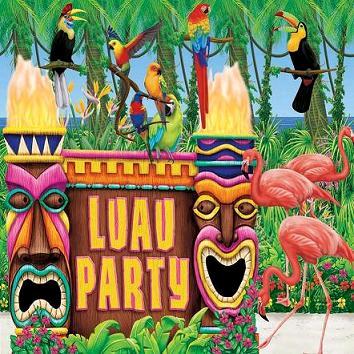 If you have a thing for tropical fun and love food, dance, and music, then a Hawaiian Luau is the party theme for you. Don't worry if you are clueless about how to plan a Hawaiian Luau, for in this blog I have shared some easy tips and suggestions on planning your very own Hawaiian Luau.
Luau is the traditional Hawaiian way of celebrating all the small and big events of life – from birthdays and graduation to weddings and birth of a child. Luaus are basically huge Hawaiian feasts (which traditionally could go on for days!) interspersed with music, dance, and entertainment. Here is how you might go about planning Hawaiian Luau:
Party Invites: Invites are the first things that you guests will get to see, so announce your party in style with theme specific invites. Use colorful paper with large floral motifs to print your invites. You can also use other tropical themes like beach, seashells, lonely island etc. as a background theme for your invite. Be as creative as possible and make sure that your invite looks as lively and cheerful, for that's what your party is going to be.
Place to gather up: Luaus are best held in the backyard under tents, with palm fronds woven together to make windbreak walls. However, if the climate is not feasible for an outdoor party, then you can recreate the tropical beach atmosphere inside your house with huge palm fronds on the walls, coconut shell decorations, bright lightings, and colorful wall hangings. Cut outs or blow ups of the old travel posters from the 1930s and 1940s would look great on the walls as well. If you have space, you might also make makeshift tents decorated with tropical flowers and ferns.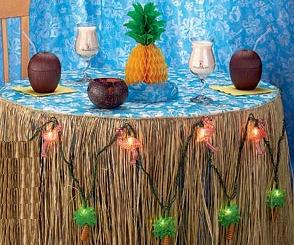 Luau feast menu: Food, you must remember is not the last but one of the first considerations to make while planning a Hawaiian Luau – it is the most important aspect of any luau. You can choose as extensive a menu or as simple, depending upon the kind of crowd you are expecting. A typical luau party spread might include a Pina Colada welcome drink served in a pinapple shaped either glass or a real pineapple shell and Kalua Pig, Poi, Sweet potatoes, laulau, and Lomi salmon for the main course. You can try tropical fruit  coolers or coconut banana cream pie for dessert.
Also, remember to decorate the party table with table runners of leaves, ferns and flowers or you can go with an ocean theme and spread an ornamental fish-net topped with shells, sand and glass balls.
Last but not the least Entertainment Hawaiian style: What is a Luau without some nice tropical music and dance! You can either get some professional musicians, request some friends with guitar skills to perform, or best put on the music player for the guests to enjoy. Greet the guest with flower lei, a kiss, and say, "Aloha" as they enter the party. Party games like hula loops, pass the coconut and limbo will keep your guest entertained. You can also request your guest to come up dressed in traditional Hawaiian dress and have an impromptu fancy dress prize, this also make for some great photo-ops.                                                                                                                                                       
Finally, relax, dress up, and grove into the party mood for some great tropical Hawaiian style fun.                                                                                                      
Image Credits: ec21.com, buycostumes.com, shindigzparty.files.com, stumpsspirit.files.wordpress.com
How To Plan A Hawaiian Luau