How To Harvest Dandelion Root

14 Oct 2010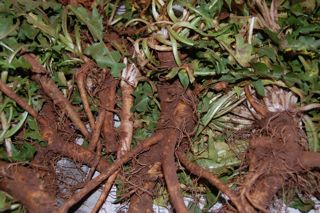 When I decided to learn how to harvest dandelion root, I knew that I will be now overcoming all the difficulties and challenges which are associated with this harvest. Indeed, I found that harvesting dandelion root wasn't as difficult, once you are aware of the various steps. Learning how to harvest dandelion root will always be beneficial for you, since it helps to get rid of several problems related to vision, diabetes, swelling, skin related problems and also digestion. So, here are the steps of harvesting dandelion root.   
Know the time – If you really wish to harvest dandelion root, you should wait for the spring season or any soggy time. You can harvest the roots at some other times of the year, but you might come across many difficulties due to improper weather. Since the soggy time or spring is its ideal time, if you are harvesting these during spring, you should ideally wait for the spring season.
Soil – The soil you will need for harvesting dandelion root need to be loose and it should be ideally tilled the year before, so that it is completely ready for you. Take care of the soil from a year before, so that when you actually need  to, you get it in the perfect shape.
Collecting dandelion roots– It is best to collect dandelion root vegetable from any garden each spring, so that you can plant it when you decide to grow them. You should gather all the leaves and stems in your hand. These should be held very close to the ground and then you can slowly pull them, so that the roots do not break. If you have planted them on wet ground and it is loose enough, it wouldn't be a problem for you.     
Soaking the roots – Once you have collected all the roots, you can place them in a bucket,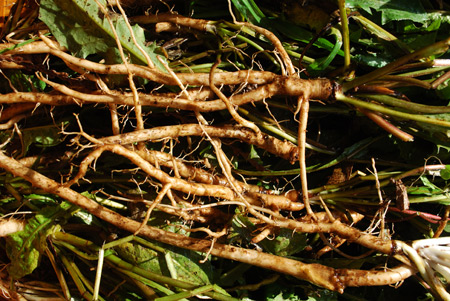 so that they can soak very well. This shall help to clean their roots later on. You can soak them for around 15 minutes. When the first batch of dandelion roots are soaking, you can start harvesting more of these roots.
Removing from water – Once, you realize that the dandelion roots have soaked well in the water, you can slowly remove them. Now, you can rinse the water from the roots. Your dandelion roots are now ready so that you can use them dried or completely roasted.
You can use the dried dandelion roots in their ground form to make tea. These are also used to make coffee. You can use your own harvested dandelion roots in the treatment of liver disorders. The roots are loaded with potassium which is one of the very essential nutrients of our body.
Image credits - eat-weeds.co.uk, mamasherbgarden.com
How To Harvest Dandelion Root