How To Make Fruit Centerpieces?
5 Oct 2010
Looking for a festive, celebrative alternative to those traditional flower centerpieces? Learn how to make fruit centerpieces and give a totally fresh and exclusive look to your dinner tables. Making fruit centerpieces are no more the exclusive art of the master chefs of reputed hotels and restaurants. You can follow a few simple steps and recreate the same magic right at your home.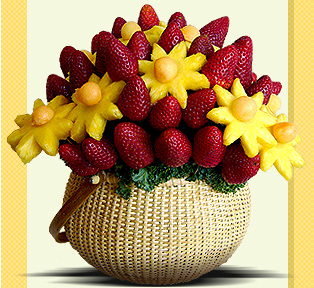 Things Needed:
To make fruit centerpieces, you need the following things:
•    A low bowl
•    Fresh fruits of your choice (like grapes, pineapple, strawberries, melons, etc).
•    Cabbage
•    Bamboo Skewers
•    Toothpicks
•    Cookie Cutters, flower-shaped if possible
•    Melon Baller
Process:

For making fruit centerpieces, simply follow the steps below:
•    Wash all the fruits and the cabbage and drain the excess water.
•    Take the low bowl and place the cabbage at its bottom.
•    Insert the wooden skewers in the cabbage, leaving a space of about an inch between them. Ensure that the entire cabbage is covered with the skewers, forming a half orb. Also, use a mix of long and short skewers – place the longer ones in the center of the cabbage while the shorter ones around the bottom, at the rim of the bowl. Such strategic placement of the skewers creates a feel of a fuller arrangement as well as maintains a leveled height of the whole centerpiece.  
•    Cut half of the melon into small dices. You can also slice a few pieces using the flower-shaped cookie cutter. From the remaining half, scoop out a few melon balls using the melon baller.
•    Similarly, cut a few pineapple slices in flower shapes, using the cookie cutter.  
•    Add grapes and melon balls to the pineapple and melon flower-shaped slices to create the center of the flowers. Stick them together using toothpicks.
•    Now, slide all the fruits on the skewers that are already placed on the cabbage. Alternate the fruits in such a way that you get a bright color combination (for example, green followed by red, followed by the orange melons and so on). Place enough fruits to ensure that no part of the bamboo skewer is visible.
•    Once all the skewers are filled, top them with strawberries, pineapple and melon flowers.
•    You can optionally dip some of the fruits (especially the ones you use as skewer toppers) in chocolate sauce. This will not only enhance the taste and sweetness of the fruits, but also heighten the color and look of the centerpiece.
•    Your entire fruit centerpiece is now ready. Refrigerate until served.
You can thus make your own, innovative fruit centerpieces and brighten up your entire dinner table. Easy to make and good to eat, healthy and nutritional, these can be eaten as appetizers or as desserts, and can be part of all occasions. So, craft these luscious bouquets of fruits and add a touch of elite creativity to your table.  
Photo Courtesy: sweetfruitarrangements.com
How To Make Fruit Centerpieces?