How to Cook Healthy Jewish Food

2 Oct 2010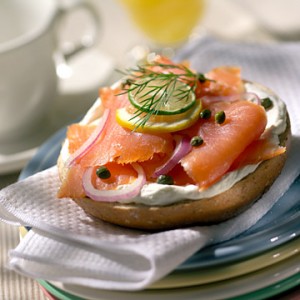 "How to go about cooking healthy Jewish food" roared a newspaper headline. I have witnessed the same tensions amongst by Jewish friends, who swear on their traditional food. The Jews have always been known as convincing people throughout the history because of their traditions. One of those traditions is their culinary tradition, which is ruled by the Jewish dietary laws known as Kasruth. Jewish cuisine was always known for its richness and variety, because it has imbibed cooking values from different cultures. Most of the Jewish foods are rich in fat and taste. In this Cholesterol sensitive era, Jewish cooks have developed many techniques to trim down the fat from the food they cook. The newspaper article further highlighted that cooking healthy Jewish food can be relatively easy if some key notes of dietary balance are kept in mind, while preparing the food.
• Fats, fats and fats – are the only words you can think of while eating some of the traditional Jewish foods. But JoyOfJewish.com says, "When it comes to Jewish food, the phrase 'eating healthy' simply means 'eating less of it.'" Chana Rubin, RD in her blog "healthyjewisheating.com" mentions that instead of avoiding the food or fats you opt for smart fats. She advises the cooks to use extra virgin olive oil for cooking because it is high in monosaturated fats and contains powerful antioxidants.
• Calorie rich  dairy products: Many of the traditional Jewish foods are made from dairy products.  Author Raichlen of Barbecue! Bible and author Steve Raichlen of High-Flavor, Low-Fat Vegetarian Cooking- suggest substituting fat free dairy products in the preparation of Ashkenazi Jewish dishes, which were otherwise prepared using fatty dairy products. These fat free dairy products help in lowering the cholesterol levels and at the same time helps in maintaining the flavor and aroma of the traditional food. 
• Meaty, Meaty makes me weighty:  Steven Reichlen in his Barbecue Bible suggests that substituting meat products with vegetable derivatives can be quite easy than anticipated, without losing the touch of traditional flavor.  He urges Jews to "think flavor, not fat" by suggesting to use meat only in proportion that is enough for bringing flavor to the food and also talks about increasing the ratio of vegetables in such preparations. He suggests that reducing fat, in the shepherdic recipes – which already had fruits, beans, vegetables were quite easier and he urged everyone to avoid deep frying and follow grilling, which is one of the healthy cooking methods. One of the healthy suggestions from another author is to use Kosher Tofu in place of liver to get the desired protein without the fear of chomping on fat. In his article "Mix History and Modernity for Healthy Holiday Fare"- J. M. Hirsch, suggests to use seitan (a wheat protein) in place of beef.
• Cook with whole grains: Ms. Rubin urges all Jews to cook with whole grains because they are known for their properties of reducing cancer, obesity, heart disease and diabetes.
The traditional Kosher laws recommend the usage of different utensils for healthy cooking. It says that utensils used for cooking one type of food should not be used for cooking other type of food, because if a food is cooked or eaten in one utensil, then it transmits that status to the next food that is eaten or cooked in the same utensil. Although there are lots of mentions about using the healthy derivatives for cooking traditional Jewish food by many modern food connoisseurs and authors, but rarely do we find mention about the use of utensils in healthy cooking.
With wise cooking you can prove that cooking healthy Jewish food is not an oxymoron.
Image courtesy: jpsblog.org
How To Cook Healthy Jewish Food