How To Plan A Family Barbeque
21 Sep 2010
Arranging a family barbeque is perhaps the best way to get along with your extended family members during the pleasant summer afternoons. Planning a family barbeque could be an easy task if you are planning only for your family. But when you are thinking of inviting your extended family members, then it becomes little difficult. Here are a few things to be considered when you think on how to plan a family barbeque.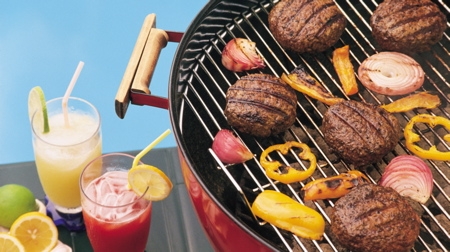 The planning part of the family barbeque will involve many things. First and foremost, you will need to bring out the barbeque oven from your garage or basement and check whether all parts are in a working condition or not. Barbeque is not done on a regular basis, so you will require cleaning the oven properly before use. When you arrange the family barbeque party in your backyard, then you will also need a lawnmower to set up the lawn. Clear all unwanted bushes and shrubs from your backyard, so that it becomes ready for the party.
Now coming to the planning on the food part, you must rightly guess on the requirement of meat and other ingredients, so that you can serve all your guests in full. Depending on the number of guests, you have to make this out. Other than the barbeque meat, you can keep some finger dishes like carrot sticks or French fries. These can also be bought from the grocery store and served after heating up in the microwave. As far the drinks go, there might be people interested in drinking alcohol. You have to purchases beverages depending upon their preference. Additionally don't forget to buy soft drinks for the kids and the non-alcoholic members of the family.
You can do a run through of the whole process of barbequeing in advance only for your family to check how everything comes out. You cannot accept anything going wrong in preparing the barbeque recipes during the actual party time.
On the actual barbeque day, you should ask for some assistance from your kids or spouse, so that you can manage the whole process by yourself. Get a full gas tank or adequate amount of charcoal for the oven. Also keep handy all your barbeque equipments like tongs, brushes and spatulas. Finally check the stock of your barbeque sauce as you might need more at the time of the party.
There are a wide range of menus, which you can barbeque, including chicken, sausages, fish, steaks, vegetables, prawns etc. Certain food will require marinating ahead of cooking to have the best taste and flavor. So you need to start working on the barbeque from the morning itself to prepare the large quantity of food for the afternoon barbeque session.
A barbeque party is mainly to have fun and enjoyment being together, so whatever you cook make sure that it adds up to the amount of fun to your family and you.
Image Courtesy: celebrations.com
How To Plan A Family Barbeque