How To Make Candle Holders Out Of Baby Food Jars
21 Sep 2010
When you have a little member in your household, you must be piling on the used baby food jars. Usually, we throw these jars out in the recycle bin, but these can be used as candle holders, by adding few artistic touch. Making candle holders out of baby food jars; is not at all a difficult task. In fact, I had made so many, that I could present these as a gift of Christmas or birthday, other than keeping it for myself. Here you will find the easy instructions on how to make candle holders out of baby food jars.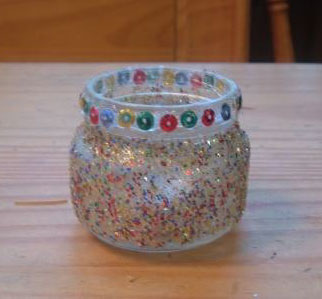 To make these exquisite candle holders, you will require used and cleaned baby food jars, glue, glass-coloring paint, ribbons, sequins and glitters.

Be very particular to use completely cleaned baby food jars, because if any oil or dust particles remain on the surface, it will not look perfect. Take off any paper or plastic wrap stuck on the surface. You can use a clean piece of cloth to dry and polish the surface of the baby food jar before you start to use.

Next step would be to use the glass-coloring paint and color the jar in beautiful design. Glass coloring part will take some time. Do not expect this to be finished within couple of hours. To make the glass painting, you have to start with the borders first, using the black outliner color. This outliner color should dry completely, before you start to fill in colors inside your design. The drying of the black outline takes almost 6-8 hours. You can also leave the jars for overnight after drawing the outlines. You should take proper care and attention while filling each part of the drawing, so that no two colors cross the outline and get mixed up. Another aspect for preparing gorgeous candle holders would be the choice of colors. Use bright colors and in right contrast to give the jars the most striking look. This will also take some time to dry out perfectly.

Once the coloring part is done, next comes the decorating part. For this you can do anything you wish as per your innovativeness. Only remember the fact that abundant use of glitters or sequins does not really add to the configuration, rather it looks pretty ordinary. Use little bit of glitters or sequins to highlight parts of your design. For additional decoration you can also put ribbon-bows at the neck of the jars.

When the color and the glue dry, you can start using these candle holders by putting votive candles inside. Always prepare in multiples, so that you can keep at least 3 or 5 candle holders in a group, for getting noticed by all.

If you have some more time and energy to spend for this project, you can go for making stands for these holders. To make the stands you will require thick aluminum wire and pliers. Use two parts of wire to spiral on each other and then to develop any shape for holding the candle-holders. However, do not make many places in a single stand, as it will not be strong enough to carry the load. Once the structure is ready, you can cover the stand with ribbon or bright-colored cello-tape to give it a bright and colorful look. Using the aluminum wire, you can also create hangers to hang the candle-holders from wall or ceiling.
Image Courtesy:thriftyfun.com
How To Make Candle Holders Out Of Baby Food Jars