How to Smoke Moose Meat?
I got some moose meat from a friend recently and I had no clue what to do with it! Of course, as usual my husband, a better outdoor cook, surprised me when he said that he knew how to smoke moose meat! Here is what I learned about smoking moose meat from my husband: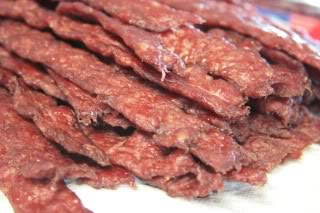 If your moose meat is in the freezer then move it to the refrigerator and start defrosting it. When the meat is thawing but is still firm, slice it into paper thin pieces close 1/8th of an inch thick. Ensure that you trim off the fat from the edges of the meat.
 
Remember that 16 pounds of raw Moose meat will give you close to 5.5 pounds of Moose Jerky.
 
Now it is time to season the moose meat slices. Spices like pepper corns and sauces like soy sauce can be used to season or marinate the moose meat. You will definitely be using your flavored liquid smoke on the meat at this stage. To let the seasoning or the marinade flavor the meat, leave the moose meat in the refrigerator overnight.
 
Ready your food dehydrator and lay the slices on the racks in the Food Dehydrator. If you don't have a food dehydrator at home you can get hold of a 160 liter Food Dehydrator as it is large enough to make a massive amount of jerky at one go.
 
Dehydrate the moose meat according to the directions given with your equipment. You might have to keep the meat slices in there for anywhere between 12 to 20 hours.
 
Rearrange the order of the trays every six hours or so i.e you have to move the upper trays to the lower rack and the lower one to upper.
 
Once done test the jerky to make sure that it is extremely dry and not thick and chewy.
 
Pack the moose jerky in to small air tight packets. These will last for a long time!
 
 
Tips  
 
Moose meat is considered to be perfect for smoking as the meat is very lean.
 
Jerky is any smoked meat, no matter if its beef, or turkey or moose.
 
Make sure that you pack the moose jerky in a variety of quantities so that you will not have to refreeze it. This makes the smoked moose meat go soft.
 
You can replace moose jerky with lean Beef, Buffalo, or Deer meat.
 
Image Credit
www.flickr.com
How To Smoke Moose Meat?