How to Bake a Tortilla Bowl?
Y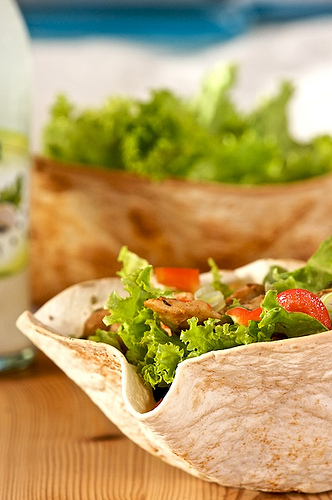 ou want to make your Mexican spread look more appealing by adding a taco salad served in baked tortilla bowls but you just don't know how to bake a tortilla bowl! I found myself in this situation a few days ago and a simple call to my mom told me everything I needed to know about baking tortilla bowls. Here is how you can make a batch of healthy baked tortilla bowls at home:

 

 


Make 6 burrito sized Corn tortillas.

 

Meanwhile, preheat the oven to 450 degrees F.

 

Get your hands on 6 bowls or cups that can be used for baking.  Even your jam jar will do the trick. For parties I use bowls as I like the clean shaped, not so deep tortilla bowls that I get after baking.

Wash these bowls and dry the outside and inside of these bowls well.

 

Take the bowls and keep it upside down on the baking rack such that there is space between the bowls.

 
Grease the outside of the bowl or spray some cooking spray on it.

 

Take a tortilla and put them on the outside of the bowl making sure that it drapes well. Apply some oil on the exposed side of the tortilla to ensure crispiness. Do the same with the rest of the tortillas.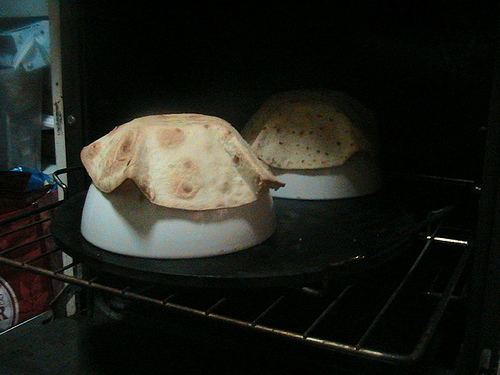 Now slide the rack with the bowls and tortillas on top into the oven and bake for 10 minutes. Remember that the tortillas should only darken and not burn.

 

Take the rack outside the oven and leave the tortillas on the bowls until it cools down. If you disturb the tortillas when they are still hot they might lose their shape. Wait for the tortillas to cool down and get crispy while taking the shape of the bowls.

 

Your baked tortilla bowls are ready. You can serve your taco salads or any other food at room temperature in these appetizing tortilla bowls.

 

 
TIPS

 
Don't serve hot food or even wet food like sauces and dips in tortilla bowls. The heat or the moisture will make the bowls soggy and collapse.
You can also make tortilla bowls by frying them. Here is a video that will help you with the frying method.

In restaurants you may get only fried tortilla bowls. These baked tortilla bowls are obviously more healthy so don't lose out on these instructions on how to bake a tortilla.

 
Image Credit 

www.flickr.com
How To Bake A Tortilla Bowl?