How to Bake A Steak?
26 Jul 2010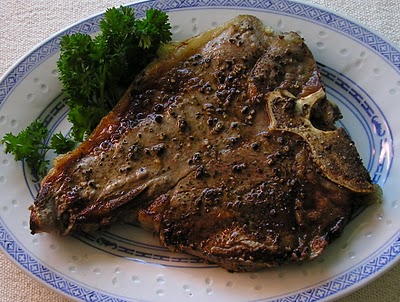 Frying a steak or grilling it are some of the common methods that we all know of, but have you ever tried to bake a steak? If not, it's time you try this simple method of making a delicious, yet wholesome meal for your family and see the joy that it brings on their face.

 

To bake a steak, you need the following ingredients:

•    Vegetable oil – 1 cup

•    Soy sauce – ½ cup

•    Red wine vinegar – 1/3 cup

•    Lemon juice – ¼ cup

•    Worcestershire sauce – 3 tablespoons

•    Black Pepper – 1 tablespoon, freshly ground

•    Onion – 1 piece, sliced

•    Garlic – 2 cloves, minced.

•    Steak – 1 piece
For baking a perfect steak, there are three basic steps involved - Buying the right meat, Marinating and Baking.  
Buying the right cut of meat:
Steaks need the right cut of meat. Too small a steak will cook too quickly, leaving you with a taste that's far from being perfect. Similarly, too large a piece may leave the inner portions of the steak half-cooked. For a perfect steak, an ideal piece should weigh 350 grams - 450 grams approximately. Also, see to it that the thickness is between 1.25 inches - 1.5 inches.
Marinating:
Marinating is an important part of all baked and roasted steak recipes. How well and for how long you marinate the steak decides how flavored and tasty your steak will eventually be. For marinating the steak, follow the steps below:

1.    Take the steak out of the refrigerator and let it thaw for at least 30 minutes before you start cooking.

2.    Take a bowl and add all the ingredients (except the steak) together and mix well.

3.    Now, add the steak to this mixture and marinate it for at least an hour, so that the meat absorbs all the flavors.  
Baking:
Once the meat is well-marinated, your actual baking process starts. Follow these steps for a perfect bake:

1.    Preheat your baking oven to 350 degrees Fahrenheit for about 20 minutes.

2.    Sear the marinated steak, by adding some butter on it and heating it on a moderate flame for about 2 minutes on each side. This will give a nice brown color to the meat and also lock the juices within it, thereby giving it a softer, juicier touch.

3.    Place the seared meat in the oven and bake until it is done.

4.    Once the steak is well-cooked, take it out and let it cool for some time. This will allow the juices to redistribute itself on the entire portion, thereby, making it tenderer.

5.    Serve hot with some delicious steak sauce, mashed potatoes and French fries.
The perfectly baked steak is thus ready in minutes. Normally, grilling is the most common method of making steaks. But, the high temperature that grill offers, at times, almost burns your steaks and leaves a bitter taste in your mouth. At the same time, it is more time consuming. Baking a steak, on the other hand, is quick, simple and hassle-free, and the taste it leaves you with is absolutely mesmerizing. So, try this at home and see how every one enjoys this great dish.
How To Bake A Steak?