How to make a churn - a butter churn with your own hands!
22 Jul 2010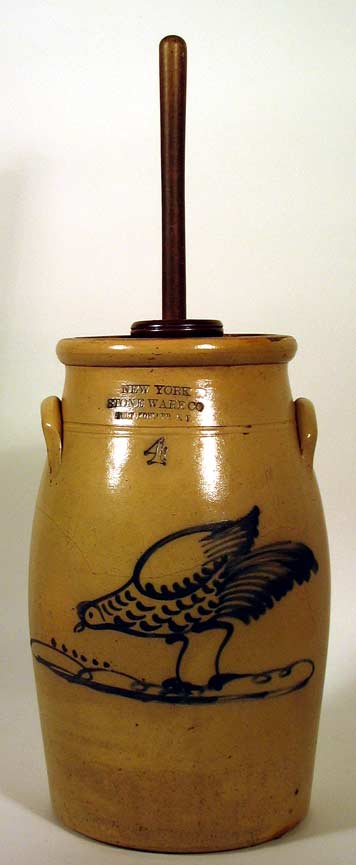 I still remember my grandmom softly humming while tediously churning cream to make butter; the process of butter making, the good old churn, the sound of the milk gushing inside, all had (and still have) a sense of romanticism and charm to it. If you can relate to what I am saying, you would surely be interested in knowing an easy way to make your very own manual butter churn. All you need is a little basic knowledge of carpentry and a free afternoon; if you have these then here is how you will make a traditional crock churn.
The items that you will need would be: 1 medium size crock vessel (preferably 3 or 5 gallon vessel), 1 piece of plywood (bigger than the mouth of the crock), 1 wooden dowel (double the size of the crock in length), 1 piece of lumbar wood, nails, saw, drill, marker, and hammer.
Place the plywood over the mouth of the crock and mark the entire opening. Now cut out the plywood 1/8th" smaller than the opening of the crock. This is the lid of your churn. Drill a hole in the center of the lid for the dowel to pass through.  To make the paddle, measure the bottom of the crock and cut 2 pieces of the lumbar wood ½" smaller than the crock bottom. Now place these lumbar pieces in a "X" shape and nail it to one end of the dowel. This will form your butter churn paddle
Now to assemble the butter churn, pass the free end of the dowel through the central hole in the crock lid you had just made. Place the lid with the paddle into the crock. Voila! Your butter churn is ready. Now all you need to do is half fill the churn with cream or full fat milk and cover the lid, by vigorously plunging the paddle up and down into the milk or cream your very own homemade butter will soon be ready. Savor it as such or top it over hot pancake or toast. 
Image credit: google.com
How To Make A Churn - A Butter Churn With Your Own Hands!