How To Make Your Own Home Made Ice Fishing Shanty?
Do you enjoy ice fishing? Then you would definitely know what an ice fishing shanty is. It is a portable shed that provides shelter on an ice lake when one is ice fishing. Often made light and with an uncomplicated structure the ice shanty can be easily made at home.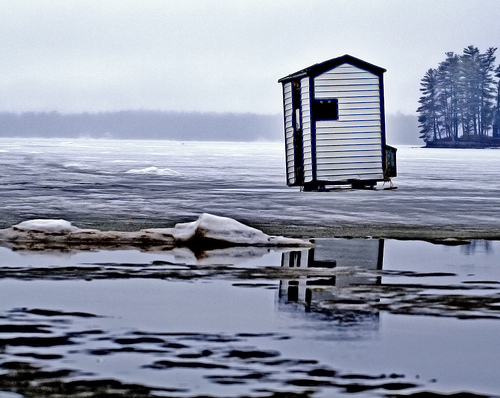 Though winter is a few months away it is worth the effort to make a homemade ice shanty at home as a surprise for your family! Here is how you can make your own home made ice fishing shanty:
Types of Ice Fishing Shanty
You can make a very simple ice finshing shanty by using a basic plywood frame as the support and then a tarp to cover it. You can make it a little more detailed by going for a bigger ice fishing shanty that has a pair of benches with an arch between them. The tarp can go around the arch while the benches allow a larger seating capacity. A better idea would be to go for a light but solid, well defined home made ice fishing shanty that is sure to withstand the weather and at the same time is light and portable. For viewing more types of ice fishing shanty go to this site.
 When you build an Ice Fishing Shanty keeep in mind:
How to transport it form one place to the other. Smaller ice shanties are easier to transport.
How many people do you intend to accomadate in it.
Things you need
Plywood
Piner Boards
Galvanized Nails
Staple Guns
Plexi Glass
Floor  - Use the regular 2x4'  for the floor. If you want a bigger ice fishing shanty then you need to increase the dimension of your floor. Determine the dimension of your fishing holes and cut rectangular openings into the floor. Sheet the floor with plywhood sheets.  Use galvanized nails and piano type hinges with to create the covering for the fish hole.
Walls - Determine the wall dimension in accordance with the floor and then cut out required measurements of inch plywood  and pine wood. Use plywood to make the corners and pine wood to fill in the centre as it favors nailing and strength.
Windows - Stick to plexiglass for the windows as they are lighter. Use 2x2's for the studs supporting the windows and make the headers and sills using 1x4's.  You can attach canvass pieces as blinds.
Doors - Doors like walls, can also be made from plywood and pine wood.  Pick out your own handles and hinges for the door. Pick up a lock too.
Roof - Since the roof has to hold the weight of the snow make it strong and well framed. You can use pine wood that is sheeted with plywood and well painted. You can also cut out a vent if you are using a propane heater in your ice shanty.
Transportation - Make skis that can be attached to the ice shanty such that they can be moved with ease from one place to the other. Ski's made from 2x10 pine boards will be perfect.
TIPS
Before making your homemade ice fishing shanty ensure that your plans are in accordance with the state regulations about the installation and specifications of the same.
Image Credits
How To Make Your Own Home Made Ice Fishing Shanty?