How to oven roast salted peanuts
19 Jul 2010


You love munching on those crispy salty peanuts from your favorite nut seller, but, if you want to do it at home, I can tell you how to oven roast salted peanuts. The truth is, if you learn how to oven roast salted peanuts by yourself, you will save some good money. That's simply because raw peanuts come at much less the price you shell out for their roasted versions. Moreover, roasting peanuts is damn easy and you can do it in minutes in any regular oven. So, if you are keen to learn how to oven roast salted peanuts, then here are my quick and simple steps for you. Read on…

 
Things you need for oven roasting salted peanuts –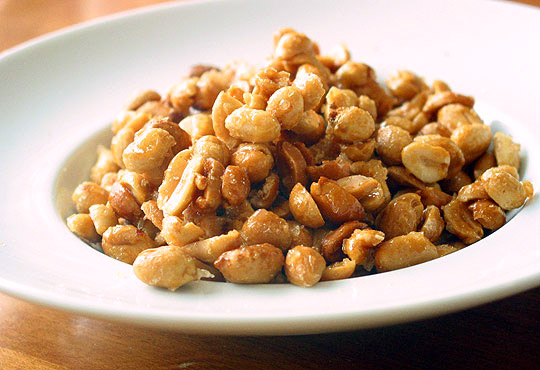 For oven roasting salted peanuts, you will need shelled raw peanuts, salt, cookie sheets and a conventional oven. If you want to add more taste to your salted nuts, you can always add your choicest seasonings.

 
Steps for oven roasting salted peanuts –
Prepare the peanuts
Step 1: For your shelled peanuts, put them in the refrigerator and freeze them for one whole night. Now, next day when you are about to roast the nuts, bring them, out of the refrigerator and gently rub your fingers on the nuts to wear their skins off.
Step 2: Now, line a shallow tray with a cookie sheet. Then, spread the peanuts evenly, all over the shallow layer.
Step 3: Once you have done that, coat the nuts with salt.
Roast the peanuts
Step 1: Set your oven to 350 degrees Fahrenheit and place the peanut containing tray on the oven rack.
Step 2: Now, roast the salted peanuts for 15 to 20 minutes.
Step 3: Then, bring out the roasted nuts and allow them to cool on the tray sheet. If you feel like, you can season the nuts with more spices and herbs at this stage.

 
Tips

For the best roasted salty peanuts, coat your peanuts with Cajun seasoning. To that, add garlic powder, herbs and cinnamon. A light dusting of sugar will only add to the taste. Since, peanuts are high on fat content; they tend to become hot very easily. Therefore, I would always recommend you to handle peanuts very carefully when roasting.
Picture Source: phuctam.com

 
How To Oven Roast Salted Peanuts