How to Toast Slivered Almonds?
14 Jul 2010
Toasting slivered almonds brings out the intense flavor that almonds have intrinsically have in them. Slivered almonds are nothing but almonds finely chopped in long sliver-like shapes. Toasted slivered almonds have numerous benefits.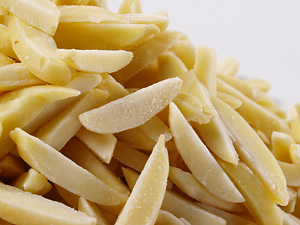 Slivered almonds are a great option for garnishing your salads or desserts. At the same time, lightly toasting them brings out the oil in the almonds, resulting in nuts with lower fat content. Toasting the slivered almonds lightly before adding them to the cake mix or muffin batters also makes them less likely to sink to the bottom of the cake.
There are three methods of toasting the almonds – the Saucepan method, the Oven method and the Microwave method. Depending on which equipment you have at home, you can use any. All the methods will give you the same result – crispy, robust, nicely toasted golden nuts.
The Saucepan method:
Take a saucepan and place it over medium heat.
Add the slivered almonds to the un-greased pan.
Keep stirring over medium heat till the almonds turn golden brown.
Remove from the pan and store.
The Oven method:
This is the best method if you have an oven at home.
Preheat the oven to about 350 degree Fahrenheit. This is the optimum temperature, as temperature below this take a much longer time, while any temperature above this can burn the almonds.
Take an un-greased baking sheet and place the slivered almonds on them. Since, almonds themselves extract some oil while being toasted, adding additional oil is not needed in the oven method.
Place the baking sheet in the oven. Ensure that the almonds are in a single layer.
Bake for about 10-15 minutes. Keep turning the almonds in the meanwhile, so as to prevent burning on a particular side.
Once the almonds turn golden brown, remove the tray from the oven.
The Microwave method:
This is a great alternative method for people who do not have an oven.
Take a microwave-proof pie plate (approximately 9 inches). Add about 1 tablespoon butter or margarine to the plate and grease well.
Take about half a cup of slivered almonds and add them to the plate.
Microwave on high for about 4-5 minutes.
Stir every alternate minute until golden brown.
Remove from the microwave.
Thus, you can choose any of the above methods and toast slivered almonds. The process of toasting is commonly known as "dry roasting almonds" as well. You can sprinkle some slivered almonds on your breakfast cereal, fruit bowl or yoghurt and enjoy the lovely flavor and crunch that they instantly add to your healthy diets. Just jazz up your tossed green salad or your cookies and muffins or to any other dish as such, and find out for yourself how different your daily mundane food starts tasting.
Photo Courtesy: genaw.com
How To Toast Slivered Almonds?