How to pickle jalapenos? – The sting of the flavor!

14 Jul 2010
The hot 'n' wee bit tangy jalapenos can spruce up your dish to the ultimate flavor. And pickling adds that extra tinge of spice, which can be an accompaniment for your main dish or a substitute for side-dishes. How to pickle jalapenos?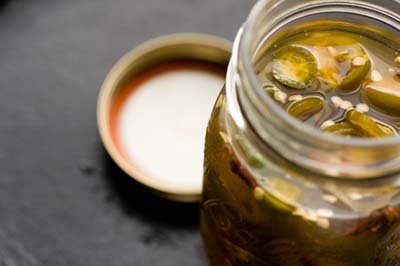 If you want to preserve your harvest of jalapenos for months to come and also serve your cuisine in a variety of ways, then pickling jalapenos is the ideal option.

This breed of chili pepper is usually pickled when crisp and still green in color. It's best to pluck the jalapenos when you know that they are fully grown because that's when they give their 'full' flavor.
The following procedure on how to pickle jalapenos will process 1kg of the chili pepper. For more or lesser quantity, you can increase or reduce the quantity of ingredients proportionately.
Ingredients:
•    Vinegar (625 ml)

•    Water (625 ml)

•    Sea-salt (50 gm)

•    20 Whole Pepper corns

•    20 Whole Coriander seeds
Procedure:
•    Keep your pickle jar ready by sterilizing it and make sure your jar is dry for storing the chilies.
•    Wear your food preparation gloves if your fingers aren't used to the 'sting' of the jalapenos.
•    Wash the chilies thoroughly and slice them lengthwise. The thickness can be about 5mm.
•    Put the sliced chilies into the sterilized jar. Pack as many as possible so that you don't leave more than 1cm of space from the top of the jar.
•    To pickle your jalapenos, first add the pepper corns and coriander seeds into the jar.
•    Take a large pan and pour the vinegar and water into it. Add the salt as well. Bring this to a boil and simmer for a couple of minutes.
•    Pour the liquid into the jar and close it with the lid immediately. Allow the jar to cool, in a cool, dark place.
•    Once cooled, remember to verify if the center of the lid is popped in. if it isn't the jars aren't airtight and you will have to redo the whole process. Other wise your pickles are ready to set.
A storage time of minimum 14 days is required for the jalapenos to 'feel pickled'. But a month's waiting time will reap flavored rewards for your patience and perseverance through how to pickle jalapenos.
Photo Courtesy : google
How To Pickle Jalapenos? – The Sting Of The Flavor!