How To Grill A Turkey For Thanksgiving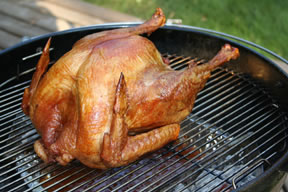 Are you thinking about earning a reputation as an expert chef? The easiest way to become an expert is by learning how to grill a turkey. Grilling turkey is a step by step process – lets have a look!
Ingredients:

• Butter

• Onions ( chopped), minced cloves

• Hard cider

• Apple peeled and chopped

• Chopped rosemary

• Foil pans, skewers, charcoal, grills, strings, plastic wrap, wire grill brushes, oven mitts

• Platters, groceries

• Turkey
Preparations:

1. Melt 3 tablespoon of butter in a saucepan. Medium heat is recommended.  

2. Add garlic and red onions. Keep stirring the mixture while you add 2 tbsp chilli powder. Stir for 1 minute.

3. Pour cider now and add 3 tsp of sage and rosemary. Add salt.

4. Cook at reduced heat for 10 minutes.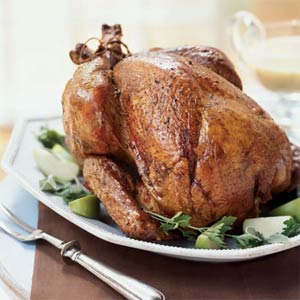 Preparing the turkey:  

1. Wash the turkey well and then pat dry it.

2. Mix onions, apples, chilli powder, sage and rosemary (2 tbsp each) in a bowl.

3. Fill in the neck cavity of the turkey with some of the above mixture.

4. Now, pin the skin of the neck to its back with the help of a skewer.

5. Tie the wings of the turkey with help of a string.

6. Fill the body cavity with the rest of apple mixture.

7. Tie all the drumsticks together with the help of a string.

8. Place the turkey in a foil pan.

9. Wrap this turkey in a plastic wrap while preparing for the grilling process.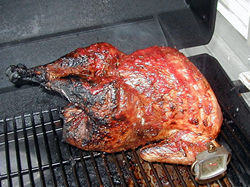 Grilling:

1. Keep the roasting pan on the grate. Keep it in the center part of the grill.

2. Now pour 2c of water in this pan.

3. Put the turkey in the pan and cover the grill.

4. It will take at least 4 hours for the turkey to get cooked.

5. Once you are done – let the turkey rest for half an hour before you start carving it.
Image courtesy: .recipetips; reluctantgourmet ; img.timeinc
How To Grill A Turkey For Thanksgiving