How To Heat Up King Crab Legs

13 Jul 2010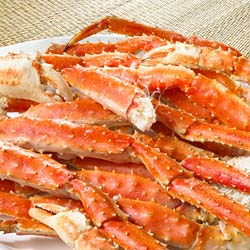 In our cookery class we had a special week dedicated to crab recipes – this was when we learnt how to heat up king crab legs. It is not as difficult as it appears to be – you can buy pre-cooked crab legs or frozen legs very easily. Once you wash and clean the crab legs you can start their heating process soon. You can also learn the interesting process of heating up king crab legs – just follow our step by step instructions.
1. You have to place all the crab legs on a rack. This should all be arranged just over a pan which is watertight . You have to ensure that this whole package is wrapped in plastic.
2. You need to keep this in your refrigerator for at least 2 days.
3. Now, you will have to simmer all the crab legs. You can place them on a steamer and let them steam for around 5 minutes. If you have several crab legs it might take a little more time.
  Note: In case you do not have a steamer, you can get them heated on an oven. The ideal temperature for this process is 400 degree F. You can place all the king crab legs inside a baking dish and let them roast for about 5 minutes.
4. Check the legs if all of them are well heated. If all are heated, slowly remove them from the heat.
King crab legs should ideally be served with cocktail sauce, melted butter and lemon wedges. Serve them hot with hot garlic sauce and enjoy the crunchiness of the crab legs.Image courtesy:  https:/.../store/images
How To Heat Up King Crab Legs