How To Make A Gas Grill

11 Jul 2010
When I heard about gas grills for the first time, I didn't even imagine that I shall have a gas grill of my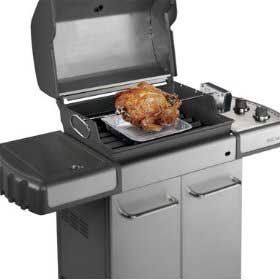 own – that too made by me. I learnt how to make a gas grill from my neighbour, who is an expert chef and would often treat us with home grilled chicken. He encouraged me to make a gas grill so that I could make all these exotic grilled recipes whenever I felt like.
If you are also thinking about making a gas grill just glance through my step by step guide. You are sure to find it useful.
Step one: You need to gather small parts when you are making a gas grill. If you have a camp stove or an old grill, it can be used too. So, gather a metal box (to make the base), hose and fittings and an old grill for making the grates. If you are not able to gather all these pieces, you can purchase each part – most of them are easily available at hardware stores near your home.
Step two: You will need to turn the base now. The bottom side should be turned up. Now, you need to make 2 holes in the bottom part of the base. Remember, that the 2 holes should be at least 6 inches apart from one another and 2 inches away from the side.
Step three: You need to ensure that the screws are tightly fit into these holes.
Step four: Now, you will have to line the hole which is just under the burner with the hole you just drilled. You will have to take the fitted LP hose for this purchase from the burner end.
Step five: You can now fasten the burner very carefully to the inside portion of the base, by letting the screw work in, from the back side right into this burner.
Step six: Repeat the same process with the other burner and LP hose. You have to ensure that these hoses are pointing just to the opposite directions.
Step seven: Once, you have completed the above processes, you should screw the fitted part of LP hoses carefully to the propane canisters.
Step eight: It is now time to test the lines. Turn the gas on with the help of the knob. Slowly light the burners to check if everything is fine. If anything is loose fitting you will come to know about it as the burners will not light. You can check once more before testing again.
If you wish you can regulate the heat on the grill with the help of the knobs. The knobs are well designed to control the amount of heat that is released. You have successfully completed learning the making of a gas grill – so, start your grilling process!
Image courtesy: masteringtheflame
How To Make A Gas Grill