How is orange juice made at home
9 Jul 2010
You have tasted enough of these market orange juices and now you want to know how is orange juice made at home? The answer is simple. Making orange juice is very easy and the process becomes all the simpler when you have a fruit or a citrus juicer at home. Well if you do not, you can simply do it by squeezing the oranges into a juicy pulp. But, before you plunge onto any of these methods let's figure it out what is the best option for you for making orange juice at home.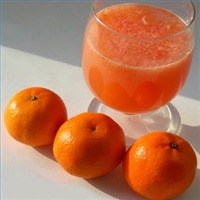 You will need –
For making homemade orange juice, you will need oranges, a citrus juicer, and a knife.
Steps for making orange juice yourself –
Juicing the oranges
Option I – Roll your oranges and squeeze them gently on your palm. The main motive of doing this is to get the juices inside the orange flowing so that orange yields more juice. Now, cut your oranges in halves. Then, put one half of an orange on the dull blade of your citrus juicer and move it around to extract the juice.
Option II – The traditional one or the manual juicer can also be used for this purpose as this also gets your job done easily enough. The good thing is these juicers are available at a very cheap price. All you have to do is to put one half of the orange facing downwards on the juicer and keep rotating it with your hands till the juice comes out. Though, that's a little exercise for your hands, but it's the cheapest effective option.
Option III – You can otherwise, use the mechanical juicer which needs the least effort of all. It is automatic and juices out the oranges pretty much on its own. All you have to do is, just place a glass at the mouth of the juicer and turn it on.  
Healthy juice - That makes your homemade orange juice ready in few minutes! If you want you can add sugar to your juice. But, it's always healthy to drink your juice fresh and without any sweetener.
Picture Source: ehow.com
How Is Orange Juice Made At Home