How To Deep Fry A Turkey For Thanksgiving Dinner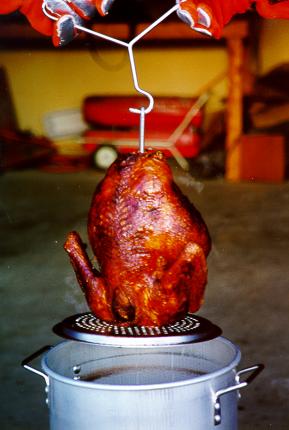 It can be a real surprise for your family if you learn how to deep fry a turkey and present them with the awesome fried turkey this Christmas. Deep frying turkey is a little challenging, but I am sure with my step by step instructions, you will be able to do it in the right way.
You will need:

• Turkey

• Peanut oil

• Hot pepper sauce

• Salt and pepper

• Lemon wedges
Step one: You have to start by removing the giblets from the cavity and neck. Clean the turkey let it dry well.
Step two: When it has dried well, fold its wings behind its shoulders and then remove its hock lock. Now slowly place it on the wire rack.
Step three: You will now have to place a stockpot on a gas burner with vegetable oil for frying purpose. Let it heat well.
Step four: Put the turkey into the frying basket. You need to lower the breast of the turkey first. Now slowly lower this basket into the heated oil. You will have to dip the turkey time again in the oil so that the oil starts getting adjusted to the temperature of your turkey.
Step five: You have to keep frying the turkey until the meat becomes golden brown in color. Do not keep your eyes off the basket when it is cooking. When it becomes golden brown, lift the basket and drain the oil slowly.
Let it cool down before you carve out the turkey and serve it.
Image courtesy:  dlcollicott.files
How To Deep Fry A Turkey For Thanksgiving Dinner