How to fix beef chuck roast in the Crockpot
7 Jul 2010
Beef chuck roast is one of the juiciest and most flavorful meats. If you are wondering how to fix beef chuck roast in the Crockpot all by yourself, we have for you an excellent yet an easy recipe. Though quite a non-healthy food, the beef chuck roast is undeniably a food that spells versatility. Moreover, it's a pocket friendly meat! So, if you are all game to learn how to fix beef chuck roast in the Crockpot, we have the recipe which will make your guests think of you as an expert beef chuck pot roast cook.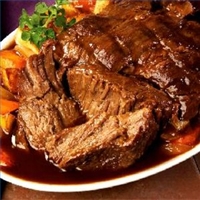 Things you will need: The first things that you will need to prepare your beef chuck pot roast are a crock pot and a large frying pan. As for the ingredients, you will need 2 teaspoon full olive oil, 3 pounds of beef chuck roast which have been quartered, 3 medium sized peeled and sliced onions, 8 ounces sliced fresh button mushrooms, 1 cup of water, 1 cup full of red wine and 4 cubes of beef bouillon. Now, for the spices you will need 3/4 teaspoon rosemary leaves crushed and dried, a teaspoon of finely minced garlic and another teaspoon black pepper which has been freshly ground. To this wonderful recipe you are also welcome to add in your choice of vegetables. So, go for carrots, potatoes, celery, rutabaga or any vegetable you are fond of. With all the ingredients arranged, you are now ready to proceed with your cooking.
Here go the steps on how to fix beef chuck roast in the Crockpot, the easiest and the tastiest way -
Step 1: Your cooking starts with the heating of the oil in the pan. Now, put the beef chuck roast into it and sear it on both sides for some 5 to 6 minutes until you find them getting browned. This just adds to the flavor of the roast.
Step 2: Now that the beef chuck roast is seared brown, place it in the Crockpot. When you are doing that make sure all the juice in the frying pan is cleaned into the pot. Then, it's time for you to mix the garlic, pepper, rosemary and bouillon cubes into it.
Step 3: Next, it's the button mushrooms' turn. Put these on top of your beef chuck roast along with sliced onions. To make the distribution uniform, stir it a bit so that is spread well over the roast.
And finally: Pour the wine and the water all over your beef chuck roast, spices and veggies and roast it on a high flame for 3 to 4 hours until it's done fork-tender. Your beef chuck roast in the crockpot is ready!
Picture Source: ehow.com
How To Fix Beef Chuck Roast In The Crockpot