How to bake crispy skinless chicken
7 Jul 2010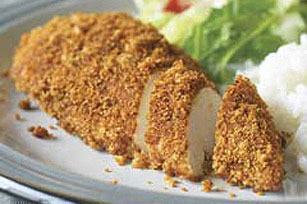 Baked chicken are always the healthy siblings of fried chicken but what if you could bake crispy skinless chicken at home? So, if you are wondering what this variety of chicken is all about and how to bake crispy skinless chicken, we have all the best answers for you. Both baked and fried chicken are delicious. The only difference is, while the former is healthy, the latter is loaded with calories. So, if you are fonder of crispy meat but dread the calories, baked crispy skinless chicken should be the solution for you. The ideal way to prepare this recipe is to follow some smarter breading alterations than the usual ones and you will have your baked crispy chicken crispier than pan fried chicken!
Ingredients to collect: To cook baked crispy skinless chicken, you will need 4 to 6 skinless chicken breasts, salt, pepper, 3 large eggs, corn flakes, and white flour. For the cooking equipments, you will need a sharp knife, a baking sheet, a non stick baking spray, waxed paper, mixing bowls and a whisk.
Steps on how to bake crispy skinless chicken
Step 1: Your first task would be thawing out the chicken breasts. The easiest way to go about it is to freeze the chicken the night before or thaw them in the microwave itself.
Step 2: Next, preheat your oven to 400 degrees Fahrenheit for 15 minutes and set aside a baking sheet after spraying the non-stick spray on it. Now, whisk the three eggs lightly just allowing the yolks and whites to blend.
Step 3: Now, add two cups of white flour into one mixing bowl and add pepper, salt and any other seasoning you want for the crust of your crispy chicken.
Step 4: In this step, you will be crushing the corn flakes into tiny pieces. You can easily do that without creating any mess on your kitchen table. Just crush the flakes by squeezing while they are still inside the cereal bag. Now, add them into the flour mix.
Step 6: Spread your waxed paper and pour the entire flour mix onto it. Then, dip the chicken pieces in the beaten egg and roll them over the flour mix. Then, put them on the baking sheet.
Lastly: Bring down the temperature of the oven to 350 degrees Fahrenheit and putting the baking sheet inside it, bake the chicken pieces uncovered for 35 minutes. So, that completes it. Your baked crispy skinless chicken is ready to eat!

Photo Source:
How To Bake Crispy Skinless Chicken