How To Cook A T-Bone Steak
6 Jul 2010
T-bone is the steak cut of a beef. It contains meat on either sides - top loin&the tender loin. Top loin is the biggest part of meat in the T-bone and smallest meat part is tenderloin. The following recipe is intended for a single serving and it makes use of one T-bone steak. However, you can apply this method to cook the desired number of t-bone steaks.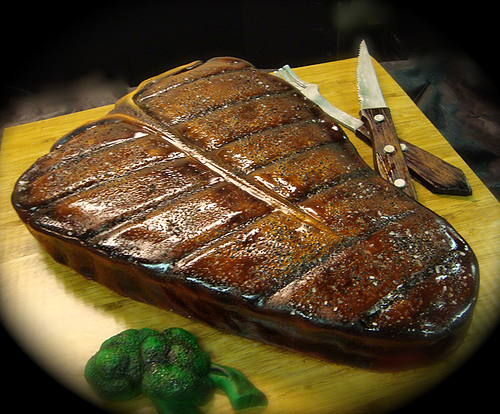 How to cook T-bone steak

1. In the first step, coat the three pound T-bone steak fully with red vinegar and then with vegetable oil. You can use a pastry brush for this purpose. Now, take a neat broiler tray and place the steak on it.
2. Take out a small size bowl and mix together one tea spoon of dried&crushed basil, one tea spoon of salt and also one tea spoon of black pepper in it. Then gently spray half amount of this mixture over the T-bone steak.
3. Next you should place the broiler tray inside the oven and keep it for broiling. It should be broiled for about five minutes. After this, you can take out the pan and season it again with the remaining mixture.
4. Once you have seasoned the T-bone steak, take it back to the oven and continue broiling for another five minutes.
5. After this period, take the T-bone steak out of the oven and cover it using aluminium foil for ten minutes.
6. The broiled steak can dry quickly after you take off the aluminium foil. So always remember to serve it as quickly as possible or else do not remove the aluminium foil until serve.
(Photo Courtesy: www.flickr.com)
How To Cook A T-Bone Steak