How To Broil Salmon - Recipe
1 Jul 2010
For all those salmon lovers out there who don't actually know the right method on how to broil salmon, here is the article you'd surely love. Broiling salmon is perhaps considered to be the quickest and affordable method to enjoy this tasty fish.
The good amount of proteins, fatty acids and B12 encapsulated on this fish offers a good nutritional value also. Even someone who doesn't generally like fish dishes can surely love the broiled Salmon.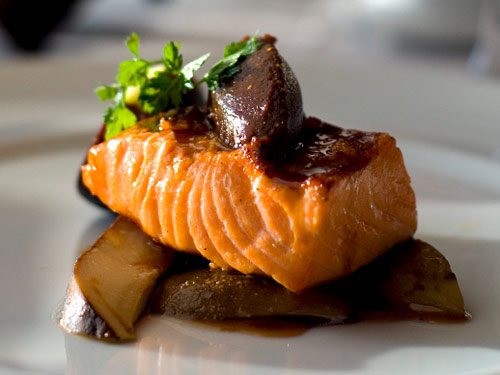 Here are the guidelines of a healthy broiled salmon recipe
1. Start your work by preparing herbs. Many popular and easily available herbs are good add-ons to salmon. You can experiment with parsley, thyme, dill or rosemary. Whatever be your choice, it is always recommended to use fresh herbs.  Still, you may use dried herbs if fresh ones are not available.
2. You can either use oil or butter for preparing the herbs. If using butter, add about two to three tablespoons of butter to it and gently paste the mixture on the fillet. If you prefer the latter, i.e., use oil, take a foil and spread the herbs on it first. Then carefully apply the herb and oil into the salmon.
3. Before you place the salmon on the broiler, make sure that it is preheated.
4. Position the salmon on the foil used for the herb&oil mixture or else use a baking sheet with foil.
5. Sprinkle the salmon with salt&pepper.  Now, you can start broiling the salmon for about ten minutes per inch of its thickness. Also, make sure to broil the salmon at about four to five inches from the heat. Your salmon will have a golden brown colouring on top, indicating it's done. Take out and enjoy the dish!
(Image Courtesy: www.marieclaire.com)
How To Broil Salmon - Recipe