How To Bone Out A Deer

29 Jun 2010
Think of a situation when you have hunted a deer but when it is the time to cook it, you put your hands down, because you do not know how to bone out a deer! Isn't that frustrating? Why let such a situation arise and spoil all the fun and enjoyment when you can learn the whole process of boning out a deer in just a few minutes.
Here are a few things which you will need when you are learning how to bone out a deer.
• Large stockpot
• Knife
• Fillet Knife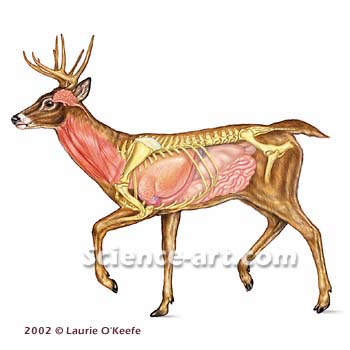 Let us now start the learning process in a few steps:
Step one:  You will have to take the forequarters or the hind of the deer and lay it down. Have a look at the natural sections where the meat is located. Just above the knee you will be able to cut out pieces for roasts and steaks. In the lower part you will get meat for hamburgers and stew.
Step two: Now, with the help of fillet knife, cut from the shoulder bone downwards towards the leg bone. Keep following the leg bone until knee bones are reached. It is time to cut out this meat by making a straight cut down, just from the portion above the knee bone to the cut you have made earlier. If you are able to do this you will be able to get a good chunk of meat.
Step three: You have to cut the remaining part of the meat now. Cut the remaining portion from the upper quarter in a similar manner.
Step 4: Continue cutting it in the same way when you reach the portion below the knees. You will notice that the meat is now coming out in sections. Remember that you have to remove all tendon connections while you are cutting.
Step 5: Keep repeating this process for all sections – you will have four well-cut slices of meat along with some small pieces when you are through this process. You can choose the specific portions of meat you would like to keep aside like cubes, roast or sections for making stew.
Tips for learners:
• If you are learning how to bone out a deer for the first time you might not have all equipment with you at the very first time. If you do not have a fillet knife, you can use any other sharp knife (I have used it and can assure you that it is equally good).
• Do not hurry when you are cutting the meat for the first time and also try not to be dejected if you are not able to cut out neat pieces of meat at the first attempt. It is all a matter of practice.
Image courtesy: www.science-art.com
How To Bone Out A Deer