How to BBQ Pork Ribs
27 Jun 2010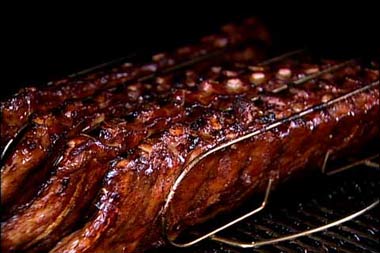 Have you ever wondered how to BBQ pork ribs? The article describes a step-by-step tutorial for you. Barbeque pork ribs are easy to handle. They are really juicy and they do not require much time in the oven. Use dry rub in the desired amount in order to adjust the spiciness of the ribs. Pair with BBQ sauce made at home for a perfect meal. 
1.    Check beforehand what ingredients you would be requiring. In case you need spices, barbeque sauce or ribs, do purchase them before you begin making the recipe. 
2.    A dry rub must be prepared for the ribs by combining 1 tablespoon freshly ground black pepper, 2 tablespoons chili powder, 1 tablespoon paprika, 1 tablespoon garlic salt and 1 teaspoon cayenne pepper.
3.    Light the charcoals, in case you use a charcoal grill for barbeque. Preheat the gas grill on high in case you are using that.
4.    Use dry rub to rub the ribs. Then wrap each slab in an aluminum foil of double thickness. 
5.    Those using charcoal grill should see to it that the charcoals have white ash while those using gas grill must turn the heat to medium. 
6.    Place the ribs on the grill and turn them until they become tender.
7.    After you take away the ribs from the grill, make the heat go higher either by adding charcoals or by turning the heat to high.
8.    Oil the grate slightly. Take the ribs out of the foil and and put them on the grill.
9.    Use BBQ sauce to brush the ribs and and cover up for five minutes.
10.    Brush the ribs on the other side and cover up for another five minutes in order to glaze the ribs properly.
11.    Now, remove the ribs. Cut them and they are ready to be served. If the other ingredients are yet to be cooked, make sure they are not overcooked else they will dry out.
(image credits : www.statesymbolsusa.org)
How To BBQ Pork Ribs